These days, Everyone including individual person, groups, and enterprises are allowed to develop, share, and interchange their content with a mass of audiences through a virtual stage via social media. Social media has become a powerful mode of communication for people all around the world.
The way of interaction and communication among people is changed by the use of social media. Every service of social media can be acquired on any device like laptops, PC, and mobile devices in the presence of an internet connection.
Social Media's Impact on Human Behavior and Society
Social media is a network, application, or site that allows users to communicate, announce, and interchange their views, ideas, and opinions on different topics, elements, files or documents, pictures, videos, and even their interests with one another quickly without any difficulties. The social media act as a tool or a component through which people cooperate and interconnect with each other in life and openly.
At present date, people are attracted and moving to the path of digitization not depending upon the traditional media to share their ideas, communicate, and get information.
Social media are of different kinds such as blogging forums, social sites, and many more. Social media is used by billions of people worldwide at present.
Due to its easy interface, everyone from children to elderly people is using social media on a daily basis.
Teenagers and adults are seen heavily exploiting social media these days. Social media is used not only by individual persons for their personal uses but also by business organizations for their business uses.
Due to the various features and benefits of social media, It is utilized in almost every sector including politics, health, science, business, and so on. Also, social media tools are always in the updating and progressing phase.
Social media has created such an impact on our lives by making our work and life so easier and more convenient that we cannot even imagine our life without social media in the present day.
Importance of Social Media
At this age, social media has become an inseparable part of human life that most of us cannot even survive without its presence.
We are spending most of our time using and connecting with social media either for learning or to gain the required information from it. It has aided to shape the opinions of society and the life of the people.
Social media is a significant factor that has changed the behavior of people and their way of living. The way we think about ourselves and other people in society has seemed charged with the influence of social media.
Social media has modified the method of communicating views and opinions among people being a result of a combination of cultural logic and communication style.
Social media has made it possible to communicate and share different activities and opinions with anyone all around the globe just by sitting in our own place with the help of the internet and mobile or computer devices.
With the utilization of social networks, people are able to keep up their personal relationships because they can easily be in touch with their close mates, relatives, and colleagues.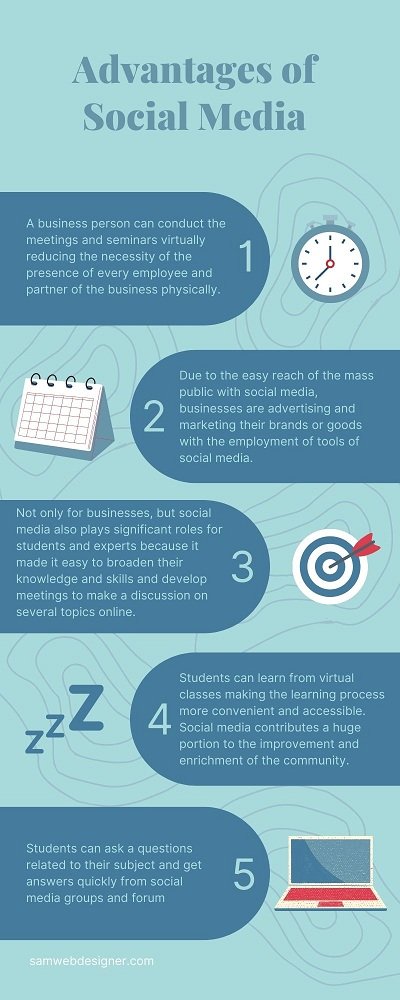 Some of the major importance and benefits of social media are mentioned below:
1. Benefits of Social Media to Small Businesses
Some of the Benefits of Social Media to Small Business
A business person can conduct the meetings and seminars virtually reducing the necessity of the presence of every employee and partner of the business physically. Due to the easy reach of the mass public with social media, businesses are advertising and marketing their brands or goods with the employment of tools of social media.
They can give satisfaction to the customers as they can easily and quickly give a response to their customer's queries and feedback.
That's why social media has become one of the important tools for small businesses. Not only for businesses, but social media also plays a significant role for students and experts because it made it easy to broaden their knowledge and skills and develop meetings to make a discussion on several topics online.
2. Benefits of Social Media for Students
Students can learn from virtual classes making the learning process more convenient and accessible. Social media contributes a huge portion to the improvement and enrichment of the community. Students can ask a question related to their subject and get answers quickly from social media groups and forum
Most Popular Social Media Platforms 2023
There are several tools of social media that contain their own characteristics and features.
Here are the most popular social media platforms in 2023:
1. Facebook
Facebook is regarded as one of the popular applications used by billions of people all around the world. It is a website that facilitates its users to get connected with people virtually just by making a profile on Facebook that allows them to post pictures and videos in their timeline and message the person they want with the internet connection.
Facebook can be used for both personal and professional uses. For personal uses, people can get connected with friends and relatives by sending them messages and contacting them with audio and video calls. Where for commercial usage Facebook is used for the marketing of the brand and the goods they offer to the audiences by creating business accounts and pages on Facebook.
2. Instagram Social Media
Instagram is another popular social media platform that also has millions of users. It is connected with Facebook and offers some similar features with a small difference.
It is also the application used to share photos and videos with other users and contact them through chat and calls.
Instagram functions on any devices like laptops, computers, and mobile devices in the presence of the internet.
Moreover, it is also employed for creating brand publicity and promotion of products and services.
3. YouTube
The next social media tool in a row is YouTube, which is the world's leading site visited by billions of people.
Youtube offers innumerable videos to users who want to watch videos on any topic or component that exists in the world.
Users are allowed to upload the videos, view, like, or dislike them, comment on their feedback, and share their videos with their own content.
Varieties of content are provided by YouTube such as music videos and albums, video clips from TV, short movies, documentaries, live videos, sports videos, academic videos, and many more.
On YouTube, users can easily download the videos they want from various YouTube channels and watch them offline whenever they want.
4. Communicating With Blog or Discussion Forum
Blogging is a social platform where generally people can debate and post their ideas and viewpoint on a specific topic or area they want.
Some famous blogging platforms are Quora and Reddit. It can also be called discussion groups which contain a group of people holding consonant interests along with the authorities and specialists.
Their people discuss and exchange their observations on a particular subject or area. In Blogging, people can get several answers to every question they ask.
People are able to communicate and exchange their views without any doubt or hesitance.
5. Twitter Social Media Platform
Twitter is a social networking page that gives the ability to the users to post their small messages which are called tweets.
Basically, on Twitter members are able to like the tweets and comment on their views on others' tweets. Twitter is a great platform that can influence a huge number of the public with just a small attempt.
6. Snapchat
Snapchat is a social media platform is trending among youngsters. With Snapchat, users are able to click the images and videos with different filters online and can send their pictures and videos to their friends. Also, they can upload such images and videos.
Snapchat is a fun tool where people can use filters to make their appearance funny and can select Bitmoji for their own snap profile picture.
7. Wikipedia
Wikipedia is a website that originated with the cooperation of a group of freelancers who writes articles. Anyone is allowed to add and adjust the pages in Wikipedia which helps to upgrade the content and present it better in front of the audience.
We can get access to millions of articles on Wikipedia written in several languages. Wikipedia is used for different purposes some use it to gain knowledge & information, while others use it to share their ideas and content with their audiences.
PROS and CONS of Using Social Media:
Social media have both benefits as well as disadvantages
Advantages of Using Social Media
Some of the benefits and advantages of social media are mentioned below:
1. Global Connections With People
One of the crucial benefits of the use of social media is that it lets us connect with the desired people from all around the globe no matter wherever their location is, which culture they follow, and which language they speak.
2. Exchange Opinions and Thoughts
Through the social media platform, it has become easy and convenient to communicate and interconnect with people living far away from us. We are able to inform and interchange our views, belief, emotions, and judgment via a group of people with the help of the social network.
3. Helps for Learning Board Knowledge
Social media is regarded as hugely advantageous for humans because it has become easy for people to learn and broaden their knowledge and skills by utilizing platforms of social media.
It is a great stage for people to share their opinions and exchange their needs and interests which has made every people social and extrovert.
Now with social platforms, people are comforted with the liberty to express and interchange their feelings and conception with the world.
4. Helps to Learn Culture and Traditions
With the services of social media, it is uncomplicated for people of different countries and region who holds the same interests and concern to show and commute their cultures and traditions.
5. Helps in Marketing of Small Businesses and Minimize Marketing Budget
At present, Social media is also used as an effective tool for the promotion and marketing of products and services by numerous enterprises and small local businesses. Businesses and firms are raising their brand awareness to a huge mass of audiences. Businesses are taking advantage of social media because it has millions of users
So promoting brands on the internet let them connect and contact the right and probable customers and get feedback from them.
This activity has automatically minimized the huge and unnecessary expenses of the companies on advertisement and marketing.
In addition to that, social sites are also used by them to get a high rank in SEO because the brand promotion of the products on different social sites maximizes the number of customers which leads to an increment in the rank of SEO of such brands and companies. Not only that the recruitment of human resources for the companies is also done with the help of social media tools.
6. Social Media are Useful for Students and Teachers
Students are also assisted by social media in several manners. Students are able to share and interchange their ideas and perception among their friends and teachers via numerous social media sites such as discussion groups, Facebook, Instagram, and many more.
At present date, with the development of social media platforms both students and teachers should not have to depend upon the old and traditional way of learning and teaching as it has become very convenient to cooperate with each other in informal ways while staying outside the academic building which has reduced the compulsion of students and professors to be present at a physical class for gaining and exchanging education.
There are numerous social sites that are particularly designed and prepared for teachers and students to learn knowledge and skills.
Also now students do not require teachers to educate them and they don't need books and notes to prepare themselves for the exams because there can be found educational materials like educational videos, e-books, etc.
Social media has enriched the knowledge of people and their learning skills.
7. Social Media Helps to Keep updated on News
Moreover, social media helps to be updated with the latest news and trends in the world. And to get such news and information we don't need to watch TV, listen to the radio and read newspapers & magazines.
Also, it is believed that the news in printed media like newspapers and magazines don't always give true or correct information. But in social media, the facts and true information are conveyed within a minute with videos and footage. Social media can make the trends and Problems of a certain country into global trends and issues in just a few minutes.
To make it clear we can take Covid-19 as an instance, as it is the virus that was first found in China but this news was transmitted all over the world within a few minutes because the news was shared by many people with the assistance of the social sites like Facebook, Twitter, YouTube, etc.
Therefore we are never unaware of the news and happenings of the world due to social media networks. Social media can also be called a medium for the speedy transmission of information and facts as it is the platform that delivers news and events of the world and to the world quickly.
Mostly, it is helpful to convey information to the public, especially during times of global crisis, disasters, emergencies, and so on.
8. Social Media Helps to Show Talent and Creativity
Social media has also acted as a platform that allows anyone to show their talent, and create freely without any hesitance which has given more power to the public to innovate.
So people do not need to go and search for the stage to showcase their skills and talent because they can easily showcase their ability on various social platforms online by just sitting in their homes in front of their devices.
Nowadays, there are numerous online talent shows and games where people from anywhere around the world can easily participate and demonstrate their hidden talent and get success. allowing them to Due to the ability to interact virtually on social media people feel more comfortable and confident in comparison to physical interaction.
It is a comfortable place where any introverted and shy people can easily learn and show off their talent which automatically encourages every people to gain knowledge and learn skills to achieve their desired careers in the future. This has benefited everyone and left a positive impact on humans.
9. Social Media are Helpful for Real-time Information
Modern information and technology can be easily accessed with social media. People who are active on social media are more likely to have information about new job vacancies in different places, social happenings at different locations and so on which has aided to increase their knowledge and getting the desired jobs.
10. Social Media Helps to Get Jobs Quickly
Social media has made the world so advanced that a person doesn't require to travel to different places to get a job as they can conveniently apply their CV or Bio-Data on several sites and companies.
For example, the effect of Covid-19 has made many people jobless due to the shutdown of different companies and several social sites, it has made it easier for people to do jobs online and also facilitated searching the preferred employment without the need to travel.
11. Social Media are Useful for Governments and share Public Express
Furthermore, social media has made it possible for the cooperation of the government and the public on national issues.
Social sites like Facebook, Twitter, etc are used by the public to express their opinions and raise their voice for justice and betterment in front of the government.
The public can express their views on politics and society about the concerned subject matter via social media. At present in different countries, the public is raising their voice and protesting virtually about the rape cases that are increasing daily in the world on social sites.
The public can give pressure on the government through social networks directing them to administer strict rules and regulations against criminals and take some strict action for the reduction of crime.
Disadvantages of Using Social Media
Some of the Disadvantages of Social Media
1. Social Media May be Addiction to Some People
Social media also has both positive and negative sides. Before this, we discussed its positive impact, and now it's turning to some negative impact. One of the main disadvantages of social media is that people can easily be addicted to it.
Social media acts as a drug, where the more it is used the more you become habituated. Social media has attracted most people and people are convinced to spend their time on it doing worthless activities. Nowadays it is seen a huge mass of people wasting their worthy time on social networking sites. It has become impossible to imagine our life without using social media.
2. Social Media May Be Harmful To Teens
Though most people use it for productive tasks most people do nothing worthy on social media and hence waste their time. Mostly, adults and teens use social media most of the time their day sending messages/calls, playing games, scrolling their news feeds, etc.
These activities definitely divert the mind and cause De-concentration on a day to day activities. The distraction and diversion of mind in people result in difficulties to do the work effectively without.
It is found that the habit of frequently checking social sites has been developed even while studying or performing important tasks which directly affects our ability to think capacity and work capacity.
So, if social media is used without limits then it disturbs our regular lives. The excessive use of social media adversely not only affects our work but also harms our physical and mental health.
3. Social Media May Cause Negative Effects on Mental and Physical Heath
In this modern world, people are hugely dependent upon social networking sites. almost every time people are busy stalking their cell phones and laptops. Nowadays it's not a big thing for a newly born baby to own his/her own gadgets.
The more we are using social sites the more we are becoming idle and inactive. Social media has even consumed the energy and time to do physical exercises and workouts which is the most important factor for a human being to be in shape and healthy.
Today due to the heavy use of social sites in their gadgets, several types of health issues and diseases are seen in people like eyes sight, back and neck pain, weak memory, and many other problems which can be dangerous.
Especially, these health issues are seen in youths. Thus, this proves that social media is harmful to our health. It is also proven by researchers and experts who conduct experiments.
4. Loose of Self Confident
Even the positive use of social media to show the talent of some people can result in harm because watching others' talents and capabilities decrease their self-confidence and make them feel inferior. They feel frustrated and depressed for not being capable to reach the same point that others are reaching. The life of some people that are displayed on social media can be a dream for some people and hence making them feel low and dissatisfied with their own life.
Sometimes social media can be the reason for taking someone's life because their many crimes and stuff are also shown which may encourage some youths to perform the same activities in a view to being famous and cool in front of others resulting in death and an increase in crimes.
5. Social Media May Cause Wrong or Misleading In formations Times
Several such cases are found on the internet. Social media is a huge stage that has millions of audiences so it is likely to misuse by some bunch of people for their unethical tasks.
It is used as a medium to publish rumors and information that are not true. And it is seen that the wrong information and topics get viral on social networks in a very short time.
These actions have grown the encouragement for violence. On social media threats to security are also increasing. Social media has acted as an easy tool for extracting data and information for IT experts and businesses.
6. May Cause Leakage of Business Information, Communications, and Data Hack
For business use and to target customers they tend to retrieve the information that is provided on social sites. The information given to social sites can never be private and safe. Hackers are hacking even private accounts and private data. So, it has become one of the greater concerns for every user because it is a very difficult task for us to keep our data safe and secure on the web.
Crimes and fraudulent activities like cybercrime, threats, hacking, fraud, identity misuse, etc are rapidly increasing in the world with the evolution of social media. It has become easy for anyone to hide their real identity and blackmail others. These types of activities are happening in our society every day.
7. May Increase Criminal Activities
With social media, people can easily harass and torture others. And mostly the victims of such crimes are children and teenagers who are unable to take action against them.
This has become an issue for both normal people as well as huge personalities and celebrities. These disturbing activities and behaviors not only cause monetary loss but also causes harm to someone's private life. Moreover, people are facing psychological problems like stress, depression, tension, etc.
Truth Social Media Platform
Truth Social is America's "Big Tent" social media platform. Truth is currently not available. It's coming soon.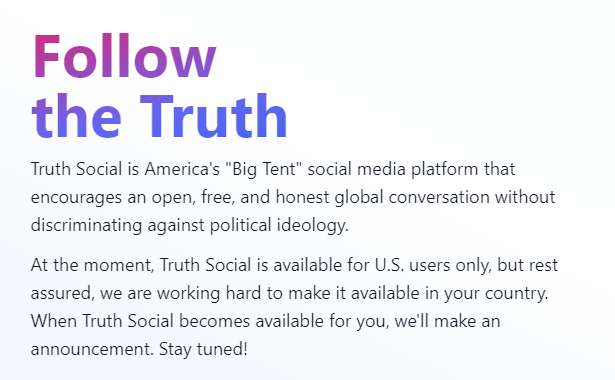 Truth Social Media App Download
If you go to Truth's social media website, You can see the Apple store and Android icons, Which redirect you to the download page for Android and Apple users.
Or go to Google Playstore and search for Truth, You can download Truth App on android When it is available.
Similarly, go to the Apple store and search for Truth, You can download Truth App on your iPhone when it is available.
Social Media Trends 2023
There are many ways to view social media trends, The best way to view them is via:
Google Trends
TweetDeck
Hootsuite
Tumblr
Feedly
POV Means in Social Media
Pov is a short word to express a point of view on social media.
POV = "Point of View"
---
My Final Thought On Social Media
Social media platforms are growing and offering new and exciting features with the development of new technologies in the market.
Nowadays social media is kept an integral part of the everyday routine of most people. And the daily use of social media sites has made people busy in their life.
Despite having many negative effects on social media, It has become a blessing for human beings with positive factors. Social media is a very advantageous innovation but people need to understand and act wisely otherwise it may be dangerous for everyone.
So, It depends on the user's behavior and they are only responsible for the issues that can be created if used wrongly.
Social media is something that gives enormous benefits if used in a productive way but on the other hand, it can be destructive if used unlimitedly and misused.
Moreover, It is equally necessary for adults to use it in a proper way and be well informed about the negative effect caused by social sites.
For the minimization of the negative impacts of social media to some extent, various programs can be conducted for spreading awareness among the public.
It fully depends upon us whether we go on the right path or the wrong one.
Feel free to comment below to share your opinion on social media.