A user-friendly website is one that is simple to navigate and designed in a way that anyone can easily understand. To ensure your website is appealing and draws in customers, it's essential to have it built with user-friendliness in mind.
Here are five techniques you can use to make your website more user-friendly.
5 Ways to Make a User-friendly Website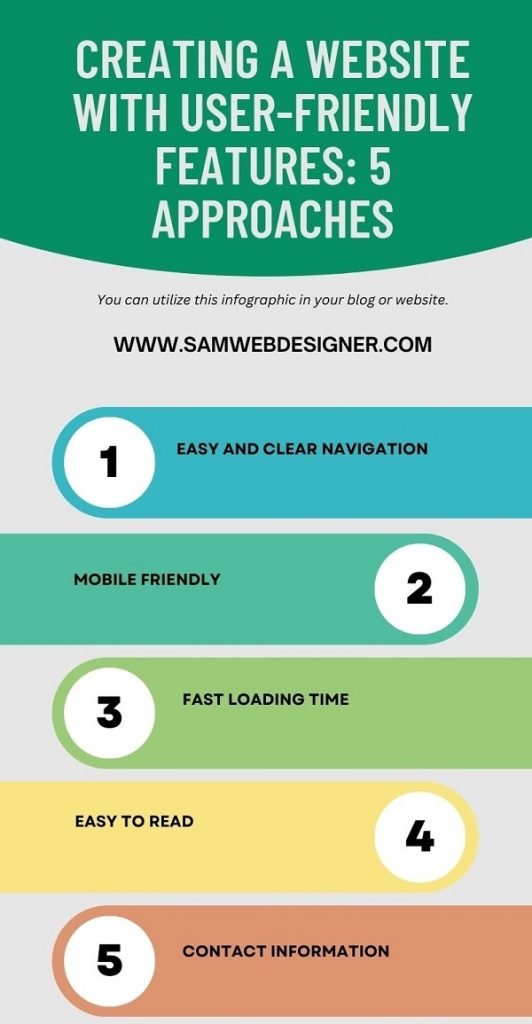 1. Easy and Clear Navigation
When people come to your website, they should be able to easily find whatever they're looking for, whether it's searching for specific keywords or getting in touch with you. That's why it's important to set up your website in a simple and accessible manner.
Achieving this involves using clear labels and arranging your content logically. By doing so, visitors can smoothly explore your website, making it simple to navigate and find the information they need without any hassle.
2. Mobile friendly
Modern smartphones don't have many restrictions, especially when it comes to browsing the internet. Since people spend a lot of their time on smartphones, it's essential that your website is compatible with mobile devices.
This means ensuring that your web pages can adapt to different screen sizes, as a substantial portion of your website's traffic comes from phones. Making your website mobile-friendly is crucial to accommodate the variety of devices people use.
3. Fast loading time
People tend to lose interest quickly. If your webpage takes a long time to load, visitors will leave your site and might not return.
Therefore, it's important to enhance your website's loading speed. The time it takes for your pages to load also affects your search engine ranking, so if you notice your pages are slow, promptly examine your code to identify areas that can be improved.
4. Easy to read
The size and style of the font you use, how you structure your web page, and the type of content you include all play a big role in how well your page works.
That's why it's important to really focus on the little things, like making sure there's enough contrast between the background and the text. Also, including images and icons can help make your site easy for customers to use and understand.
5. Contact information
Having your contact information right on the website is one of the top ways to make it user-friendly. This makes it simple for users to get in touch with you directly. It also reassures users that there's a credible company behind the website.
Regularly researching and collecting feedback from your customers is vital. This practice allows you to incorporate new ideas and enhance the user-friendliness of your site. There's always space for improvement, so it's crucial to consistently make innovative changes.
Conclusions
In conclusion, a user-friendly website is characterized by its seamless navigation and understandable design, crucial for attracting and engaging customers. Prioritizing user-friendliness during development is pivotal.
Various paths can be taken to achieve this, as evidenced by the five essential techniques outlined above: ensuring straightforward navigation through clear labels and content arrangement, adapting to mobile devices for broader access, optimizing loading times to match short attention spans, enhancing content readability with strategic typography and visuals, and bolstering user trust through accessible contact information.
Moreover, ongoing customer input and research drive continuous improvement, fostering innovation and ensuring that the journey toward optimal user-friendliness is a dynamic one, requiring consistent adaptations to enhance website accessibility and user contentment.