Alibaba is one of the renowned and popular Chinese e-commerce companies which connects sellers and buyers worldwide through its website. Jack Ma Yun is the founder of Alibaba.
It has influenced and left a great impact on the economy of China.
Alibaba is a B2B e-commerce site that has made the way to do business a lot easier as any business can perform commercial connections with another business from anywhere and at any time they want.
In more than 190 countries Alibaba is administering its services at the present date.
Alibaba aims to support this by providing a source of supplies for every kind and size of business from different parts of the world.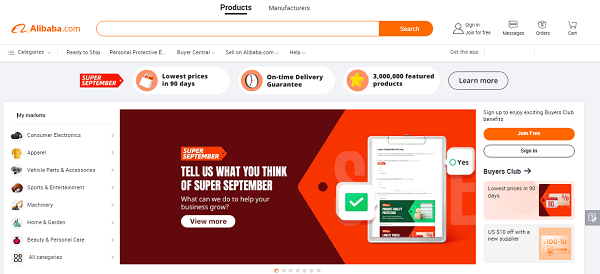 There are several benefits and advantages of operating Alibaba store to sellers such as huge traffic, secure platform, time consumption, and more are discussed below:
Advantages of Alibaba Sellers
Easy to operate the platform, cost-effective, international shipping and good customer support are the benefits of using the Alibaba platform.
Some more advantages of selling on Alibaba are mentioned below:
1. Easily & Quickly Available
One of the best things about Alibaba is its convenient access as anyone can quickly and easily reach and operate on this site especially individual sellers who can flourish and grow along with it.
Alibaba always aims to give benefit both small businesses and huge enterprises by making commerce and transactions easier.
Buyers can browse through the huge amount of products on this site and can find the best products from different vendors around the world at cheaper prices.
2. Effortless & User-Friendly Navigation of the Items
Another merit of Alibaba is that it is a handy website where navigation of the right products is uncomplicated and convenient.
It prevents the wastage of time searching for the right products separating them from unwanted items.
It provides a button bar or pull-down menu that helps to categorize the products.
Alibaba has gained popularity among every user because of its effortless navigation of the products.
The seller can upload bulk products by categorizing which helps the buyer to view and order products easily without wasting more time and effort.
3. Alibaba is Cost-Effective
Alibaba is cost-effective as any type of business can afford its services. The small-scale suppliers can also get revenue benefits by selling their minimum no of products again on the Alibaba site by keeping more range of surplus.
As well as sellers do not need their private website and marketing budget to sell products online. Because Alibaba has huge traffic and a powerful store builder to showcase seller products within the platform.
And buyers, are free to explore the products on the site and choose the one they want to purchase.
They are not charged with any additional cost except the price of the product.
4. Product Diversity
The other benefit of using Alibaba for eCommerce is that it has a huge diversity of products. It is impossible for buyers to search for a certain product on Alibaba and not find it.
This platform has every type of product and every brand collected and displayed from different parts of the world.
5. Higher Traffic & Powerful Promotion of the Products:
The mechanism of advertising the products on Alibaba is very structured and productive.
It charges some amount for the marketing service but it is worth it because it assures retailers to make every consumer of the world aware of their products with an effective promotion methodology.
The amount charged by Alibaba for the advertisement service is lower when compared to other marketing agents which directly provides the cost-benefit to the sellers.
6. Huge Trading Spot
Being a Chinese e-commerce website Alibaba is rewarded with a huge area with a massive internet market around the globe.
Due to its location vendors have got significant opportunities with a broader group of customers. Almost 80% of the population of China browses Alibaba for online purchases.
Best Things to Sell from Alibaba
Here are some of the products ideas that you can sell through the Alibaba marketplace:
Sell Agricultural Machinery & Equipment on Alibaba
Sell Apparel & Textile Machinery on Alibaba
You can Sell Building Material Machinery on Alibaba
Sell Chemical & Pharmaceutical Machinery on Alibaba
Sell Cleaning Equipment on Alibaba
Sell Electrical Equipment on Alibaba
You can Sell Vehicle Parts & Accessories on Alibaba
Sell ATV/UTV Parts & Accessories on Alibaba
Sell Automotive Parts & Accessories on Alibaba
You can Sell Aviation Parts & Accessories on Alibaba
Sell Bus Parts and Accessories on Alibaba
Sell Container Parts and Accessories on Alibaba
Sell Go-Kart & Kart Racer Parts on Alibaba
Alibaba Top Selling Products
Here are some of the top-selling products on Alibaba of Nov-22-2022:
Custom Household Plastic
Cute Magic Click
Silicone Rubber Products
Horizontal install light infrared
Best portable facial pore cleaner
Europe menstrual pain relief patch
Power bank USB docking charging
Earbuds Mini Earphone Waterproof
Above are a few of Alibaba's best-selling products, They will be updated from time to time. You can check top-selling updated products from the Alibaba website at any time.
FAQs and Questions
These are some popular frequently asked questions and their quick answers related to Alibaba.