A landing page is the main page that directly appears after clicking on a certain link from any website or from advertisements. The main motives of landing pages are to promote and advertise the product as it has the leads like signup and gives the direction to go toward the other pages of the website.
And the tools or software that are used to build such landing pages for the business are known as landing page builder tools. For the increment of the conversions from the visitors to the leads, these tools assist to develop simple, powerful, and productive landing pages.
They offer numerous customized templates that can attract and motivate visitors to move forward. You can also choose the colors, fonts, pictures, patterns, etc in these tools to make a landing page.
All the elements can be customized with the help of drag and drop interface to build eye-catching and effective main pages. The landing page should be responsive, Mobile friendly, and attractive in order to get more leads and sales.
Landing Page Builder Tools
There are several landing page-building software available in the market which may have similar features but function differently. You can choose the best landing page maker that fits the requirements of your business.
Below are the best landing page builder tools and software:
1. GetResponse
GetResponse is one of the best and most effective tools that helps you to build pages, send and receive emails and computerize marketing. With this tool, creating landing pages is very easy and less time-consuming as you can create attractive pages in just a few steps and you can convert the audiences into customers.
Features of GetResponse
Below are the features of GetResponse:
Present your imagination on your page: In GetResponse you can present your Imagination on your landing page as you can get the choice over the customizable templates, pictures from recognized sources, layouts, etc. Also with the help of the drag-and-drop editor you are able to edit and modify any elements of your page and the landing page can be changed into a mobile design from a desktop design.
Integration with other tools: The landing page you created with "Getresponse" can be shared with the public with the free or paid domains. You can integrate your page with some of the popular tools like Facebook, Shopify, PayPal, etc.
Conversion funnels: This tool has readymade marketing funnels with which you are able to transform your page into a functioning online store. In GetResponse you can organize and import products and services from different trusted sources as well as you can create more traffic on your landing page through the advertisement on Instagram and Facebook.
Plans and Pricing of GetResponse
Below are the plans and pricing of GetResponse: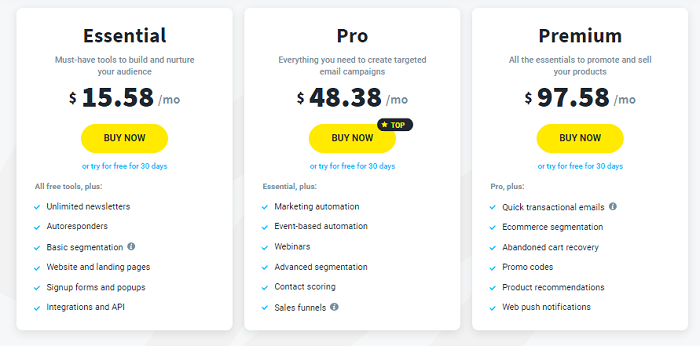 You can check the plans and pricing of Getresponse from here.
2. Clickfunnels – Funnels and Landing Page Maker
Clickfunnels is another medium that helps you to transform visitors into leads and then into customers with its quick creation of an appealing sales funnel. You do not require technical and coding knowledge to build landing pages. They lead the visitors in every step towards the sales procedure to keep them on the website without losing track. Clickfunnel is most popular for digital marketers, Bloggers, Freelancers, and for different industries in the online market.
Features of Clickfunnels
Below are the powerful features of creating landing pages in click funnels:
Offers every required tool: Click funnel is the one-stop destination with every tool and element required to conduct a business like speedy creation of sales funnels, drag and drop editor, Facebook and email promoting, dashboard, shopping cart, etc.
Sell your products: They help you to build an attractive and responsive landing page or channel that is predetermined to guide the visitors in each step of the sales procedure. This activity can transform the visitors into customers that benefit the business.
Continuation funnels: In Clickfunnel, There is multidimensional marketing which makes it easy to get connected and reconnected with the customers anytime and anywhere. You can target your audience and send them messages targeting them through social media.
Plans and Pricing of Clickfunnels
Below are the plans and pricing of click funnels:
You can Check Clickfunnel plans and pricing from this link.
3. Makeswift – Landing Page Creator
MakeSwift is another best website and page builders that don't require code knowledge and are useful for those page builders who are prepared to proceed faster.
It is the best destination with every required element like layouts, fonts, designs, domains, etc to generate an attractive page.
Features of Makeswift
Below are the features of Makeswift:
No code required: With Makeswift you can create unlimited pages customizing the designs and details that fit your innovative ideas without the need for codes.
Collaboration of work: You are able to collaborate with your team members and create a beautiful page more easily and quickly including the ideas and creativity of everyone.
Preview and manage your screen view: Here you are allowed to preview your finished page of yours before uploading it to the web so that you can make necessary changes. As well as you are provided with the option to manage your screen view on any device from mobile phones to computers.
4. leadpages – Landing Page Maker Software
Leadpages also comes under the best landing page maker which provides lead pages, pop-ups, convenient site building, and many more. Small businesses are benefited from the easy connection with the visitors, collection of leads, and converting leads into sales. They also offer a free trial for 14 days to test their services.
Features of leadpages
Below are the features of leadpages:
Design and templates: In this tool, you can make a choice over the designs, layout, templates, and many more to make your landing page look beautiful and unique. You can also import images from sources like Shutterstock unlimitedly and adjust them with the drag-and-drop editor. Every page of the site can be customized with the brand logo and color.
Integrations: Lead pages provide a convenient connection with the various tools that are required while marketing your business and selling your product. You can also add the link to your favorite email account.
Conversion tools: There are several conversion tools to make the sales process easy like email trigger links, messaging campaigns, live analytics, limitless alert bars, pop-ups, etc.
Plans and Pricing of leadpages
Below are the plans and pricing of leadpages:
Standard: This plan is the cheapest among others with a cost of $37 per month with the facilities like a free custom domain, unlimited traffic, free hosting, email support, one site, etc.
Pro: Pro plan is the most popular plan costing $74 per month and it comes with chat and email support, 3 sites, an email trigger link, online sales, remittance, etc.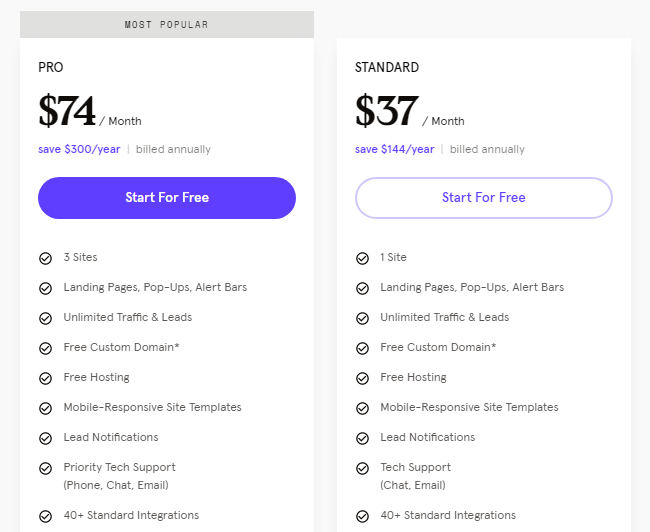 You can check updated plans and pricing of lead pages from here always.
5. Unbounce
Unbounce is such a landing page software that anyone can create extraordinary lead pages without coding. With its newest Artificial Intelligence features and conversion intelligence team, you can make every conversion campaign successful and convert more customers and more sales.
Features of Unbounce
Below are the top features of Unbounce:
Pop-ups and sticky bars: With Unbounce you can set up custom pop-ups and sticky bars with the drag-and-drop builder and effective text replacement. Moreover, you can schedule the starting time and ending time for the popups and bars on the basis of your plans.
Landing pages: It allows you to build top-converting landing pages by adjusting every element of the page. You have the choice of more than 100 templates, attach custom scripts on any page of your site, copy and paste the components of one page to another page, etc.
Integrations: To boost the pages you can integrate other CRM tools like google analytics to watch your page performance and traffic, email notifications to notify you about the new leads, Zapier to send the data and leads, etc with Unbounce.
Plans and Pricing of Unbounce
Below are the plans and pricing of Unbounce:
Launch: This pricing plan costs $81 per month (on annual upgrade) with 20000 visitors, one domain, 500 conversions, unlimited landing pages, etc.
Optimize: The cost of this plan is $122 for a month (on annual upgrade) which has 5 domains, 1000 conversions, 30000 visitors, unlimited pop-ups, etc.
Accelerate: This plan is for $203 per month (on annual upgrade) with 50000 visitors, 10 domains, 2500 conversions, unlimited sticky bars, and so on.
Concierge: This plan costs $518 per month (on annual upgrade) and has 25 connected domains, 5000 conversions, 100000 visitors, big-time bandwidth, etc.

You can check Unbounce plans and pricing on this page.
6. Ucraft
Ucraft is a versatile tool that not only helps to build landing pages but is also a pro in building any website, online store, or portfolio. With its drag-and-drop builder, anyone can easily develop their own site as per their ideas and present it to the world. Ucraft is useful for everyone whether it is a blogger, an artist, or the owner of a small business.
Features of Ucraft
Below are the important features of Ucraft:
Built-in templates: Ucraft has numerous options for beautiful templates that can be used in any kind of landing page or you can also create your own templates that suit your business.
Logo maker: Ucraft also provides the facility of making professional logos for your brand for free. It is easy to customize and choose the color, font, or icon for the best logo in very less time.
Adjustable design: the designs and templates made from Ucraft can be adjusted to fit various devices like computers, mobile phones, and tablets, and the size of the screen for an unblemished experience.
Plans and pricing of Ucraft
Plans and pricing of Ucraft are mentioned below:
Pro website: This is the most popular plan of Ucraft which costs $10 per month if paid annually with unlimited pages, advanced factors, blogging and SEO tools, 20 integrations, etc.
Pro shop: The cost of a pro shop plan is $21 per month when annually paid and it comes with features like 1000 products, 50 payment methods, inviting teammates, an abandoned cart saver, and many more.
Unlimited: This plan costs $69 for a month when paid annually with unlimited products, 20 shipping methods, 10GB per file, tax exemption, etc.
Check the plans and pricing of Ucraaft from this link.
7. Instapage
One of the well-known and advanced landing page-building software is Instapage. Here in this platform, you do not require a professional developer to build a mobile-friendly and relevant lead page. You can create outstanding landing pages yourself with basic technical skills.

Features of Instapage
Below are the features of Instapage:
Experimentation: With the experimentation feature of Instapage it becomes easy to maximize the conversions of your site. You are able to view the details about the landing page, variation, and experiences well as the rate of conversions, visitors, cost-per-lead, etc.
Personalization: In Instapage you can create and design your lead pages promptly. You can attach ads and messages on your main page targeting your visitors which can maximize the conversion rate and minimize the acquisition rate.
Collaboration: The collaboration feature of this tool lets the developer combine with their teammates while creating pages so that they can share their ideas and review the page.
Plans and Pricing of Instapage
Below are the plans and pricing of Instapage:
Building: The building plan is for $149 per month Instablocks, no limits on conversion, heatmaps, SSL encryption, conversion analytics, salesforce integration, Google Single Sign-On, etc.
Custom: The cost of this plan is custom and depends upon the needs of your page. It offers multi-step forms, GDPR compliance, audit logs, editable global blocks, page migration services, direct lead bypass, and many more.
Feel free to see the plans and pricing page of Instapage.
8. landingi
Landingi is the platform that is for designing the pages and generating leads. It has hundreds of templates that can be chosen according to the type of business. It is easy to design and modify your page with the drag-and-drop builder of Landingi where you can conveniently create and design your lead pages, pop-ups, mobile pages, funnels, etc.
Features of landing
Below are the powerful features of landing:
Simple tools: Landingi has numerous tools to build pages that are easy to use and implement on the page. So you don't need to take any web designing course to create a page in this software.
Vast choices: This platform offers about 800 Google fonts which can be chosen without worrying about the fees. Also, it has more than 5000 image options in its library from where you can choose relevant pictures to enhance the look of your page.
Automatic optimization to image: This feature of Landingi helps to boost the landing page speed because the flexible design can get adapted to any screen appearing beautiful and attractive.
Plans and Pricing of landing
Below are the plans and pricing of landing – landing page builder software:
Create: The cost of this plan is $65 per month with the features like unlimited conversions, 2 custom domains, 20000 visitors per month, basic analytics, email integration, cloud hosting, etc.
Automate: This plan is for $89 per month with the services like 4 custom domains, page history, campaign scheduler, 40000 visitors per month, funnels, autoresponders, email, chat, and phone support, etc.
Agency: agency plan charges $109 per month and it comes with A/B/X split testing, priority support, audit logs, access for customers, 5 custom domains, and many more.

You can check the full updated plans and pricing of landingi from here.
My Thoughts on Landing Page Builder Software
a landing page is a page that appears at first when anyone clicks the link of the site. It is the main page that is responsible for the effective marketing of the brand and maximizing the conversions of the page if it is built perfectly with the use of the best tool.
There are numerous tools that are designed to create the best landing pages that motivate visitors to stay on your page and take action.
Landing page builder software has made the life of marketers easier with its effective tools and functionalities.
These tools have made it possible to develop the lead page effectively, conveniently, and quickly without the need for professional knowledge and web developers.
They offer a drag-and-drop editor and give choices on colors, fonts, layouts, CTA(Call To Action), templates, images, etc to insert in your landing page for attractive and stimulating looks.
Hence, investing some amount of time and money in great landing page-building tools does not harm but grows your business by producing more leads and sales.