The act of working on the pattern and the decoration of the websites on the internet and performing the design of the layout, theme, content, or overall appearance of the website is known as web designing.
And the tools or software used by the web designer to complete such activities are web designing tools and software.
A Lot of designers use these tools in order to form a website, networking layout, archetyping and visual designing.
This software is developed aiming to make the task of developing and designing websites easier and more convenient.
Web designing software can be used by anyone either a new web designer or the professional one. Website designing software should be user-friendly, easy to use, speed, drag, and drop, and should fulfill user requirements.
Best Web Designer Software
The use of advanced technology in this software makes the task of web designers simple and trouble-free where they can complete their designing activities in less time.
While choosing the best web designing software that assists you to make the best website and share it with the public you can consider its features, benefits, pricing plans, etc, and match them with your motive and most required qualities.
Below are the Best website designing tools and software:
1. WIX (Website Builder Software)
Wix is one of the best cloud-based web creation tools that allow you to build, organize, decorate, and expand the visibility of your website on the internet freely and similar to a way you have always planned.
Wix is such a tool that has never failed its millions of users to make them proud. It is a cloud-based website designing platform that is very secure and easy to use.
Features of Wix Builder Software
Below are the features of Wix Builder software:
Logo Maker: Wix allows its users to style their own personalized logo in just a few minutes by completing some steps.
Website Design: You are provided with limitless ways to develop and with some gorgeous designs with which you can design your websites beautifully in the way you have imagined.
Websites Templates: Wix has got more than 800 beautiful tailor-made templates for website designing.
Portfolio Website: With Wix, you are able to develop a website professionally devoting it to your productive effort.
Wix Plans and Pricing
Below are the plans and pricing of the WIX website builder:
Wix Combo Plan: Combo plan is specially designed for personal use where you need to pay $8 per month. Under this plan, you will get a total of 3GB space for storage, 2GB bandwidth, every-hour customer support, a free SSL certificate, and many more.
Wix VIP Plan: This is the first priority support plan which costs $24 each month and offers unlimited bandwidth, superior customer care, a proficient logo, a custom domain, 5 hours of video, etc.
Wix Unlimited Plan: This is the most popular pricing plan of Wix for freelancers and entrepreneurs which charges $12 per month for providing a 10GB data storage area, no ads, a free SSL certificate, a 24-hour customer concern, free visitor analytics tool for one year, etc.
Wix Connect Domain Plan: Connect domain is the cheapest plan of Wix costing only $4 per month with 500MB area for storage, no video hours, 1GB bandwidth, custom domain, no professional trademark, SSL certificate, etc.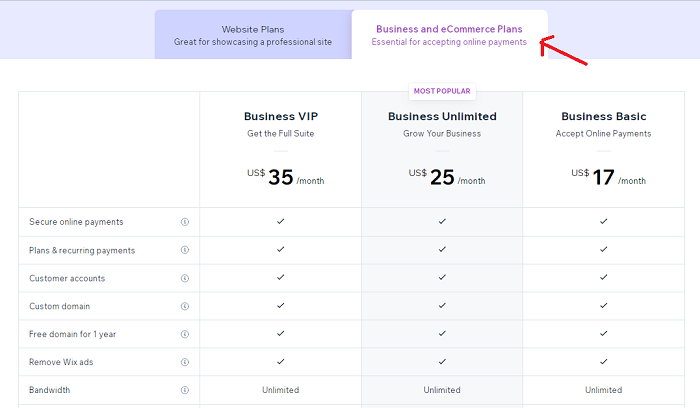 You can see more About the plans and pricing of Wix here.
2. Weebly Website Builder
The next best web designing tool is Weebly which offers personalized designs for web designing and different tools for development and for boosting the growth of the trade.
With Weebly, anyone can edit and modify their websites easily and quickly with guidance on each step and drag-and-drop builder.
You don't need technical knowledge to develop and decorate the website of your imagination.
Features of Weebly Website Builder Software
Below are the best features of Weebly website builder software:
Layouts and Designs: you are provided with numerous unique templates and layouts, attractive themes, and various elements of design like page alteration, slideshows, etc which can make an extraordinary website.
Free Web Hosting: Weebly offers hosting services to its users for free of cost including the services like safety, care, technical maintenance, etc.
Mobile-Friendly: Another key feature of Weebly is that it provides a mobile version of its software where users can easily create and customize websites on their mobile phones.
Weebly Plans and Pricing
Below are the plans and pricing of the Weebly website builder:

Weebly Connect Plans: This pricing plan is worth $5 per month where you can receive SEO and forms of contact for marketing, 500MB space for storage, mail and chat support, custom domain, etc.
Weebly Free Plan: It also has a free plan for basic use where users can receive a free SSL certificate, customer support through chat and email, a 500MB area of storage, etc.
Weebly Business Plan: This plan of Weebly charges $25 per month for the services like no ads, product options, badges, a shopping cart, a mechanized tax calculator, chat, mail and phone support, sophisticated e-commerce data, and many more.
Weebly Pro Plan: Pro plan costs $12 each month and offers site search, no Weebly ads, inventory control, shopping cart, updated stats of sites, community meetings, phone, message, Email facility, etc.
3. Squarespace Website Builder Tools
Another Trusted web creation tool is Squarespace which provides the best service for creating and hosting websites, as well as users, can use the templates that are already built.
Also, users can develop and edit their websites as they want using the drag-and-drop feature. On top of that, it offers a free trial service for 7 days to their customers to use their tool.
Features of Squarespace Website Builder Tools
The best key features of Squarespace are mentioned below:
Custom-built Templates: Squarespace offers numerous templates built by professional teams which can be customized on the basis of your brand requirements.
Blogging: with this web designing tool you are able to create a blog for your website and share them with the audience to show your presence to the whole world.
Pictures Sourcing: you can mention the pictures either free or paid pictures on your site. Also, you are able to buy images from trusted sources by paying some extra charges.
Integrated Analytics: this feature of Squarespace helps its users to watch the status of ranks and traffic that are received on their site without logging into any other websites.
Plans and Pricing of Squarespace
Below are the plans and pricing of the Squarespace website builder:
Squarespace Business Plans: The business pricing plan is the most popular among other plans which cost $23 per month when you pay annually and provides a free custom domain, unlimited contributors, SEO for visibility, 24-hour customer care, gift cards, etc.
Squarespace Personal Plans: This plan charges $16 per month when you pay annually for the facilities like SEO features, two contributors, limitless storage area and bandwidth, and many more.
Advanced Commerce: the cost of the advanced commerce plan is $49 per month when you pay annually for premium services like e-commerce analytics, modern shipping, discounts, gift cards, 0% transaction fees, etc.
Basic Commerce: the price of this plan is $27 per month when you pay annually where users are provided with unlimited contributors, full personalization with CSS and Javascript, customer profiles, and many more.
Note: Squarespace may offer discounts to users time to time. You can always check the updated pricing of Squarespace from here.
4. WordPress
The fourth web-building software in our list is WordPress which is used by both small and huge enterprises as well as bloggers. I myself use WordPress for the blog "Samwebdesigner".
This web designing tool is popular for convenient website building, creating blogs, and selling products.
Features of WordPress CMS (Content Management System)
Below are the features of WordPress:
Flexibility Options: WordPress allows you to create any kind of website you desire with the use of appealing themes and you can extend with plugins. You are also able to develop your application.
Easy to Publish: In WordPress, You can easily design and develop posts with the use of different formats and layouts including media files, and can share them on the internet with the public with just a few clicks.
Built-in Comments: Users are able to engage in customer discussion in the area provided by WordPress for the comments.
Plans and Pricing of WordPress.org
Below are the plans and pricing of WordPress website building software:
E-commerce: The price of this plan is $45 per month where extra features are provided like no ads, live chat support, modern SEO tools, premium themes, amalgamation with famous shipping carriers, and many more.
WordPress Business Plans: Under this plan, users are charged $25 per month with the facilities like video upload, limitless mail support, payment collection, integrated google analytics, etc.
Premium: This plan cost $8 for a month and provides premium themes, revenue earning from ads, collection of payments, etc.
Personal: Personal plan costs $4 each month where extensive mail support, a free domain for one year, and no WordPress ads.
5. Webflow – Website Builder Software
The next best web designing software is WebFlow which is known for modern web development.
Designers can build the websites they want without any codes, design them with beautiful templates and layouts and launch them on the web.
Features of WebFlow
Below are the features of web flow:
Content Management: Along with building and designing websites, users can manage their content in web flow because on this site content can be easily managed and organized with the automatic attachment of layouts, formats, and pages.
Live Participation: Web flow provides a platform where different partners can connect and participate in designing, modifying, and updating the websites.
Web-Hosting: This tool offers web hosting services to its users in less time without any difficulties in setting domains, acronyms, Cpanel, etc.
Plans and Pricing of WebFlow:
Below are the plans and pricing of web flow:
Business: The business plan costs $39 per month if paid annually where the custom domain is provided along with the 1000000 monthly visits, 10000 products collection, 100 pages, etc.
Basic: The basic plan costs $14 each month if paid annually with 100 pages, a custom domain, monthly visits of 25000, and no collection of items.
CMS: CMS plan is worth $23 for a month when paid annually which comes up with 100 pages, a custom domain, 2000 collection of items, etc.
You can check WebFlow Plans and Pricing From Here.
6. Google Web Designer
Google web designer is a product of google that lets its users generate attractive and interactive HTML-5 designs on websites that can easily be operated on any device.
With this web designer, you can get connected with other related tools of Google like google ads, google drive, etc.
Like other web designing tools google web designer also provides numerous formats, themes, layouts, etc to decorate your website according to your choice.
Features of Google Web Designer
Below are the features of google web designer:
Flexible: In Google web design you can customize the content of the website with the dynamic workflow as well as you can also manage the format and style of the content in such a way that can look good and similar on any screen.
Interactive: Under the interactive feature google web designer allows creators to develop several pages in their content to change the audience experience, and construct different events for the actions of the users they can also sum up the components like images, maps, videos, etc with drag and drop option.
Animation: The next feature of this tool is animation as you can generate your content in 3D and you can also choose the modes like quick mode.
7. Bootstrap Studio
Bootstrap Studio is a strong software for designing websites where one can easily connect the reactive pages with the utilization of drag and drop option.
This tool has a lot of incorporated elements that can be helpful in the formation of websites and their decoration.
Features of Bootstrap Studio
Below are the features of Bootstrap Studio:
Eye Catching Components: this tool comes up with numerous appealing elements like slideshows, footers, headers, online catalogs, etc. for developing reactive web pages. One can also develop their own designs and share them.
Elegant Templates: bootstrap studio offers several elegant templates that are approachable and customizable. Those templates comprise several widgets and pages which you can choose and include in your websites matching your brand.
Live Preview: with this feature, you are able to preview the instant changes in your websites from different devices and web browsers.
Pricing of Bootstrap Studio
Below are the plans and pricing of Bootstrap Studio:
Standard: This plan costs $29 which is a lifetime charge where you will get free upgrades for one year, complimentary forms and web hosting, etc.
Lifetime: lifetime plan comes with everything of the standard plan including free upgrades for forever with a charge of $59 for lifetime use.
8. InVision Studio
Envision studio is also regarded as one of the best web development software which is a one-stop platform for designing, animating, and prototyping websites.
Features of InVision Studio
Below are the powerful features of InVision Studio:
Rapid Prototyping: With the utilization of this software you can generate exact prototypes and flowing interconnection quickly as well as examine your creation without leaving the app directly.
High-speed Designing: Invision Studio is a design platform with adaptable layer designing, strong vector editing, and pixel-perfect structure that makes the task of converting imagination into reality easier and faster.
Shared Design Libraries: this tool has libraries within it that provide simultaneous updates, global coordination, teamwork, etc that help to reduce the work of the user.
9. Adobe Dreamweaver
Adobe Dreamweaver is website-building software that lets its users fast develop beautiful sites and publicize them on the web it can run on almost every device and in any web browser.
Features of Adobe Dreamweaver
Below are the features of Adobe Dreamweaver website builder:
Elements Menu: Adobe Dreamweaver provides a menu for every element and component required for designing any website like heading, font of the content, color, hyperlinks, etc. This makes it easy to edit and style the content.
Highlights of Codes: Dreamweaver makes the work easier when it comes to codes by highlighting them in different colors because, in any web design, there can be found several types of codes like Javascript, CSS, HTML, etc.
Preview Mode: the previewing feature of Adobe Dreamweaver lets its users pre-watch their own site and the content before publishing it to the web which can help to check if anything is right or missing.
Pricing of Adobe Dreamweaver
Below are the plans and pricing of Adobe Dreamweaver:
Business: The business plan is charging $20.99 per month which has creative cloud libraries, 1TB storage, technical support, app integration, etc.
Individuals: This plan also costs $29.99 per month.
Schools and Universities: The price of this plan is $20.99 per month with 24-hour technical support, 100GB storage, etc.
Students and Teachers: This plan costs $19.99 per month and provides portfolio websites, creative tools like Photoshop, apps for sharing pictures, etc.
10. Shopify E-commerce Website Designing Software
Shopify helps you to start your profession or expand the existing one with the tools to organize every aspect of the business. Shopify is the world's most popular and trustable e-commerce website-building software.
Features of Shopify E-commerce
Below are the features of Shopify:
Customization: You can customize your page with tailor-made templates and layouts in Shopify. And also for a better look, you can utilize CSS and Javascript.
Drag and Drop Builder: with the drag and drop feature of Shopify, one can easily create and design their sites without the need for technical knowledge.
App Integration: you can integrate various apps in Shopify for your convenience in the areas like accounting, marketing, customer service, etc.
Plans and Pricing of Shopify
Below are the Plans and Pricing of Shopify:
Advanced Shopify: The cost of advanced Shopify is $299 per month with every feature for scaling your business like report builder, gift cards, third-party shipping rate calculation, etc.
Basic Shopify: Basic Shopify is $19 each month which provides unlimited products, sales channels, 4 locations, etc.
Shopify Plans: This plan charges $49 per month with 5 locations, 5 staff accounts, professional reports, etc.
You can check Shopify Plans and Pricing From this Link.
Conclusions For The – Best Web Design Software
Web designing tools are necessary for everyone who aims to develop and design their own websites.
These tools not only make their designing task easier and faster but also efficient and effective. With the help of these tools, you are able to transform your imagination into the real picture.
From web creation tools beginner designers can get knowledge about every aspect of the websites that makes it easier to do business and to attract customers.
As well as for professionals can expand their creativity and show them to the world to gain visibility.
In sum, web development tools are great boons for users who want to develop each part of the websites as per their desire and want to start their own business.