A spelling checker tool is a kind of software that helps to rectify errors or mistakes in the text or articles. In other words, A spelling and grammar checker is a computer program that enables us to identify and correct the misspelled words in any content by simply comparing it with a list of other words available in a database or dictionary.
Online spell-check tools can be installed in a word processor, email, mobile devices, electronic dictionary, search engine, browser extension, and more. Spelling-checking tools are simple to use and some are completely free.
These spelling correction tools will alert and suggest to users when the word is mistakenly written.
It also helps to ensure whether our text contains a high degree of accuracy and correctness or not. English spell-check tools will boost your writing speed and help you to improve your English skills too.
Nowadays, spell checkers are used worldwide by individuals and companies as it helps to improve and enhance their writing skills.
Spelling Checker Tools
Making mistakes in our daily life is natural.
But some silly mistakes will cost us a lifetime. I myself used to make lots of spelling and grammatical errors in my day-to-day life. I feel now comfortable with these tools to generate my blog articles for my readers.
Spelling errors show a negative user experience to readers and reflect a bad impression.
Spelling and grammatical mistakes mainly occur due to a lack of adequate time for writing and proper knowledge of English grammar and words.
It is mainly essential for students and professionals to create error-free content.
The Best Grammar Check Software
It is common for niche or experienced professionals to make grammar and spelling mistakes.
I am niche as well and I often make many errors while hurrying to complete my task.
I might not have much time to proofread my writing.
Poor content with spelling and grammatical errors will not only discourage my customers from visiting web pages or blogs. But also badly affect search engine ranking.
"But today, Such problems have been easily solved by spell-checker tools."
I now don't need to stress much about improving my content quality. Here are the best spelling checker and grammar tools.
1. Grammarly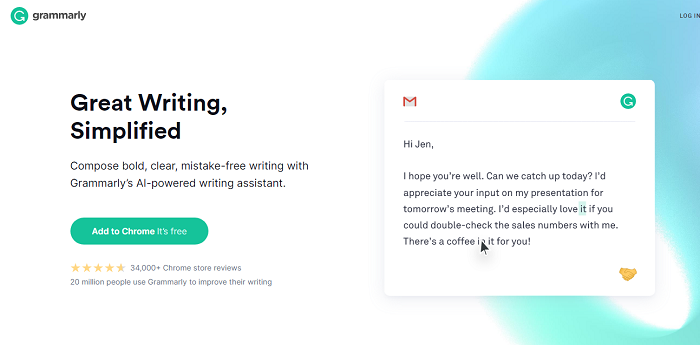 Grammarly is the most popular grammar checker tool with a million users from across the world. It helps to improve our writing style too.
The Grammarly app is free to create accounts and easy to use. You can also try their premium version to get more features like duplicate content search, Passive voice detector, and lots more. It works very fast.
When I use Grammarly, I only need to copy and paste my content and within a couple of seconds, I get the result. As well as this software is useful for freelance writers, students, researchers, and bloggers.
You can use the Grammarly apps in Gmail, Google Docs, Microsoft Word, WordPress, and different apps. It's additionally accessible as a browser extension.
Grammarly suggests spelling, grammar, punctuation, context, and word choice based on the context of my writing.
The best part that I love about Grammarly is that: apart from spelling, grammar, and punctuation checking, its premium version detects plagiarism in content.
2. White Smoke
White Smoke is another spelling and grammar checker tool. White Smoke is comparatively cheaper than Grammarly. It is more precise and has more than 55 different languages.
White Smoke also includes a plagiarism tool, thesaurus, and templates on it. It enhances our spelling. White Smoke provides lessons and video tutorials to make it easy for users to understand the reason for the correction.
"White Smoke works in all browsers like Chrome, Mozilla Firefox, Opera, Outlook, Safari, and so on."
The White Smoke app is also available for those users willing to use it from both iOS and Android devices.
3. Prowritingaid
It is a powerful writing tool that helps users to become accurate, quick, and better article writers. You can access ProWriting software on desktop apps for Windows and Macs both.
ProWritingAid not only helps to correct grammar but also provides numerous in-depth reports to improve your writing.
The suggestion provided with their reports will help more to understand the overall writing.
This report also shows word count, readability, repeated words, spelling issues, terminology issues, etc.
4. Ginger Spell Checker
Alike other spelling and grammar checkers tools, Ginger Online is also considered the top editing software.
Ginger is designed in 2007 by an Israeli startup company. Since then it has become a popular grammar checker on the world market.
Ginger Online allows translating writing into 60 different languages. You can easily download and install it on your devices.
Similarly, Ginger offers a personal trainer feature for helping to improve your English. It also gives personalized meetings or exercises after analyzing the way/technique of writing.
It is user-friendly and able to rectify all kinds of mistakes like grammatical, spelling errors, punctuation, context errors, sentence structure, and misused words. But Ginger Online doesn't have a plagiarism detector on it.
5. Virtual Writing Tutor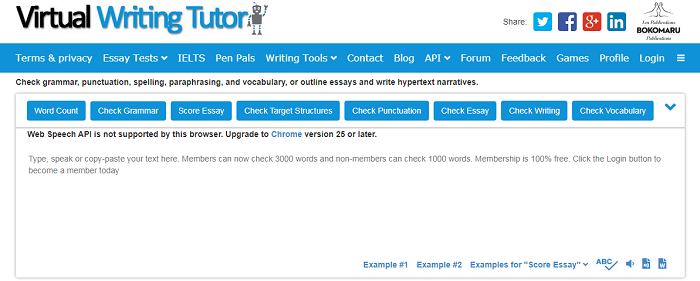 Virtual Writing Tutor also checks English spelling, grammar, vocabulary, and punctuation. It helps students, language teachers, and professionals to create error-free content.
Virtual Writing Tutor contains a feature called paraphrase checker to avoid plagiarism in the text. You can also create easy outlines offered by Virtual Writing Tutor for your essays. With this tool, students can easily learn in the absence of their teachers.
Pros and Cons of Online Spell Check

er
Here are the advantages of spelling and grammar checker tools:
The spelling checker tool has saved plenty amount of time by reducing the workload of proofreading and editing. It is especially useful for those people who have limited or no time to correct their mistakes. This tool allows you to correct spelling errors and enhance your writing skills.
Correct writing without any spelling and grammatical mistakes is preferable. But poor writing with many errors is not a good impression to a reader. Using grammar and spelling checkers, everyone can easily create quality articles.
Spelling correction tools help to establish a good reputation with my professionals and friend circle. Having excellent writing makes a big difference. Usually, people don't care much about their spelling and grammar mistakes but sometimes it brings much damage. An employee with good grammar and spelling will make a good impression and is more likely to be praised in his/her job. Similarly, Students who have problems with their vocabulary and spelling are benefit from this tool. It will support improving their grade too.
Personally, This tool helps me to improve my communication skill. With the help of a spelling and grammar checker, Now I don't worry much about losing projects from clients. It encourages me to communicate effectively on social sites too. I can also send an email and write an article/letter flawlessly.
Here are the disadvantages of spelling and grammar checker tools:
Spelling and grammar checker is advantageous and user-friendly. It corrects grammar and spelling mistakes within a moment. I am also using it for my regular tasks. This has somehow created a dependency on it. People like me are more concerned about submitting or finishing their assignments/tasks rather than trying to understand the concept of grammar and spelling.
Most grammar checker software is not accurate and reliable. Though there contains numerous errors, Some may not detect and corrected as best as human natural writing.
Some of the spelling tools work only where internet service is available. So, I can't use it offline, this is a huge disadvantage for me. And they have limited free versions. So, after completion of the free trial/version, I need to get a premium one to correct spelling and grammatical errors which may not be affordable all the time. Because the Premium version is expensive to afford.
Some spelling and grammar checker software doesn't support the mobile version, only works along with the browser.
FAQ's
What is the best grammar checker tool?
The best grammar checkers I personally mostly use are ProWritingAid and Grammarly.
Is there any grammar checker software that can be used offline?
Most grammar checkers work only online like ProWritingAid, Grammarly, and Ginger. Microsoft Word, WhiteSmoke, Hemmingway app, and Ginger software can be used as offline grammar checkers.
Which grammar checker is suitable for a mobile app? Is it safe to use grammar checker software?
White Smoke and Reverso work well on mobile devices. Yes, grammar checker is safe and easy to use and one of my favorite among all.
Conclusion
For a professional, Web Designer, or academic writer, a good knowledge of English spelling and grammar is essential.
Having access to all this amazing software such as Grammarly, Ginger, and White Smoke, identifying, and correcting spelling and grammar is not a big deal.
This editing software contains varied features.
There are both advantages and disadvantages to using these tools. So, based on capacity and budget, one can either use a free version of them or can receive a premium version.