Gmail is one of the most popular email services available in today's age. It has many features as well as free to use. You can easily create an email account for free and can use it for business and personal purposes for receiving and sending mail.
Gmail has powerful features like attachments, calendars, reminders, and more. Besides these, you can also connect all your Google products by using a gmail.com account.
Here I will show, Easy steps about "how you can create your Gmail easily"
How to Create Gmail Account
Here are the quick steps for creating your Gmail account:
1. Go to www.Gmail.com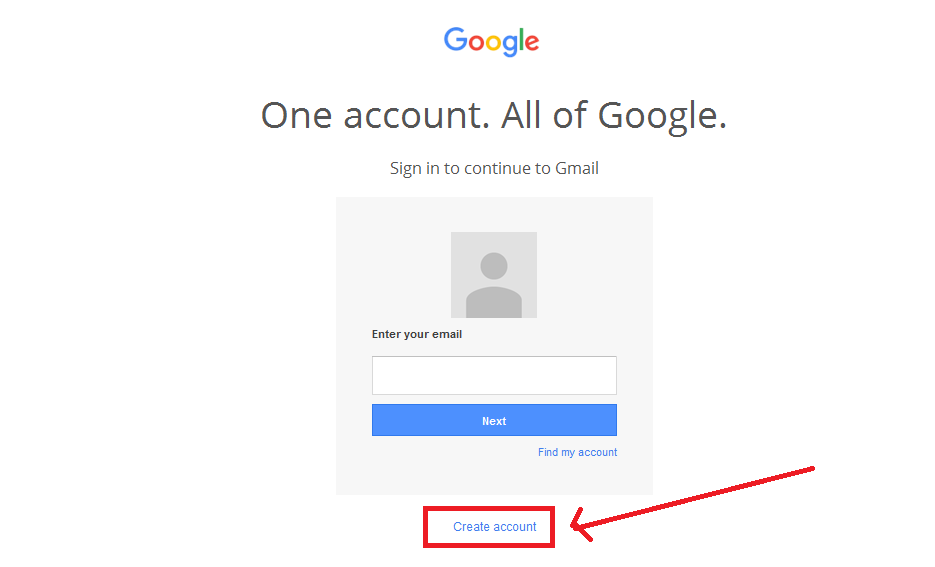 First go to the official Gmail website: www.gmail.com and you will see windows as shown in the above image. Click Create an account.
It allows you to create a new and fresh Gmail account.
2. Fill Up the Account Registration Form
You will see the above form appear on your screen. Fill up the form to continue to the next step.
Name: Enter your legal first and second name in the name field.
Choose your username: You need to choose a unique username which will be your email ID later. It should be unique and not chosen by anyone.
Create Password: Choose a strong password that is hard to guess. Try to mix characters, letters, and numbers if possible.
Confirm Your Password: Manually type your password again to make confirmation.
Birthday: Choose the month, year, and date of your birthday. I recommend using your legal birthday date. It will help to recover your account with your ID later If it gets locked or hacked.
Gender: Select your gender on the form.
Mobile Number: Enter your mobile number, It will help to recover your password and set up 2-step verification to make the account more secure.
Your Current Email Address: This may help to recover your lost password or later.
Once you fill in all the fields, Choose your location/country and hit the next step.
If there are some errors, You will get notified in red text. Fix it following form labels instructions.
3. Congratulation, Now, Access to Your Gmail Now
Congratulations, You created your Gmail account, Now you can access to first Gmail interface and be able to Gmailsinin Now.
Once you log out from Gmail, click sign in and access with the same email and password that you created.
Gmail Sign in Email
Once you create your email account, I recommend to setup all settings and security by phone or by using a Google 2-factor Authentication setup.
This help to secure your Gmail more and give extra security.
Useful Gmail Setting
These are some of the useful Gmail settings:
Upload Profile Image in Your Gmail Account
For uploading or changing your Gmail profile Image,
Click the small icon that appears at the top right of the Gmail dashboard, As shown in the above image.
Click the Small Camera Icon, Drag and drop a new image or click Upload from the computer.
And click "Set as profile photo"
How to Add Signature to Gmail

Click the Small setting icon at the top right of the Gmail dashboard. Click "See all settings".
You will see all settings, Now scroll down and you can see the signature.
Click "Create New" for creating your first signature and give the name of your signature. and click Create again.
Now write the content of the signature in the text area displayed on Gmail and click save changes by scrolling down.
You can send a test email to another Gmail to test if the signature is set up properly or not.
How to Change the Gmail Language Setting
Go to the setting icon that appears at the top right of your Gmail dashboard. And in language, Choose your preferred language and scroll down and click save changes.
Quickly Change Gmail Themes
Click the setting icon at the top and Click themes.
Click set themes, pick one best theme from the collection, and click the save button.
Conclusions
You learned how to create a Gmail account
Gmail is one of the popular free email services provided by Google. It is beneficial for both personal and business purposes.
There are lots of advantages to using Gmail and it can access all Google products very easily.
Besides these, there are lots of bad people who may try to hack your Gmail and I recommend using mobile verification for accessing your Gmail account.