Wix website store is an application of the Wix platform that helps to develop a professional online store and e-commerce business by providing the necessary tools.
Everyone from entrepreneurs, photographers, designers, musicians, businesses, Freelancers, etc can create a website on Wix Editor.
And can sell products or services from the Wix site store. No matter it is a physical or digital product.
As well as Wix app gives extra benefits for web owners to add social-friendly applications, videos, widgets, and more. To check the Wix demo you can try with Wix free website by creating a free account.
And once the website is ready, Upgrade to connect the domain name.
Wix eCommerce Guide & Features
1. Sell Physical and Digital Products in WIX
In the Wix store, a business person can sell any type of product, whether it may be a physical or digital product. And for the promotion of the product, you can display product videos and images.
There are no limitations on the amount of the commodity. So you can sell in an unlimited amount and group products, and you can create collections of the product and sell in bundles as well.
It helps you to create product options and it also allows you to display the images for each option of the products such as size, colors, and more.
Wix store also allows you to import the goods of the store from any other platform in a few clicks with simple computer knowledge.
2. Dropshipping on Wix Site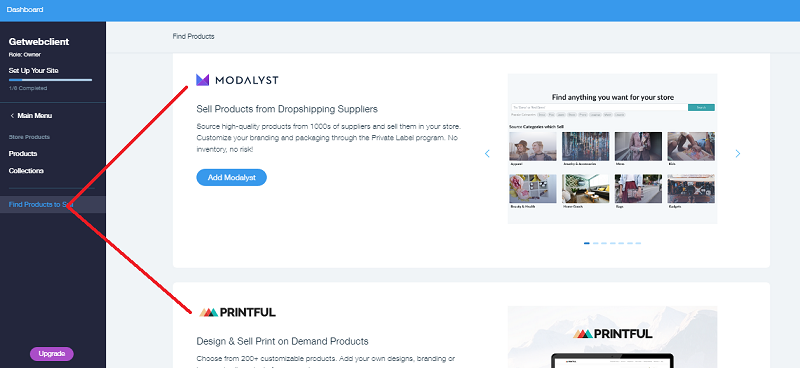 Drop-shipping is the process to develop product selection without having to worry about the manufacture, inventory, and shipping of those products.
You can sell your product by using Modalyst and become a Modalyst supplier that helps you to grow your brand and connect you with online retailers all around the world.
And also with the use of Printful and Printify, you can sell print-on-demand services and develop and sell your own branded product.
Dropshipper directly ships the product to the customer when a customer buys it.
3. WIX Catalog and Storefront
In the Wix store, you are free to set up your own online store the way you have always wanted using the numerous designs and customization options provided by Wix.
You can personalize the gallery of your product by selecting a slider, grid, or one product gallery or by adding filters, group options, and page numbers.
You also have the ability to make products sharable to social media by visitors.
You also have control over the display of the product and you can display information as much as you want.
4. Finance and Tax
Wix store helps you to manage your finances by providing a dashboard and also they provide you with the calculation of the sales tax at checkout.
It creates groups of products that are differently taxed and also the commodities are tax-exempt.
You can manage your finances of the store from one particular place by just syncing your Wix site to QuickBooks.
5. Multimedia Sales With Wix Site
Wix allows you to connect with social media so that you can display your product there and gain real consumers for your online store.
Facebook and Instagram are the channels where you can get connected and sell your product.
On Instagram, you can combine your account with Facebook and tag the products to create posts to attract potential consumers.
Also on Facebook, you have to create a business page for your store and you can add the catalog of the store so that customers can browse your product on Facebook and then checkout on your site.
6. Management of Orders and Shipping
Wix provides a dashboard that helps you to manage, ship, and track all orders of your online business.
It automatically updates the status of your package and tracking numbers and connects you to the third-party shipping platform.
Wix also divides the orders into multiple shipments that separate tracking numbers.
It assists you to cancel or refund a customer's orders, updating your stock, and providing notifications to your customer.
The products which are included in a shipment are listed and printed which helps to authenticate items.
You can also create a coupon code to give a discount and increase sales through the Wix store.
Pros and Cons of Wix Site
Advantages of Wix Website
It is a very popular and powerful website-building platform. No programming skills are needed.
There are hundreds of free images and vector graphics to use on any kind of website or store.
Wix Store accepts different payments including Square and PayPal.
Easy to recover history and Wix allows one to save a duplicate website as a backup.
Disadvantages of Wix Website
Cannot be transferred to your own hosting.
It might be expensive for some users compared to other hosting.
FAQ

of Wix
I have no programming skills. Can I Make a website in Wix?
Yes, Basic computer skills person can easily create a Wix website. You can play with images, text, and elements from Wix ADI of Wix Editor with its powerful drag-and-drop features.
I have no time to design a website, How to find Wix, the designer?
Wix has an Expert Marketplace where you can send website design requests and choose proposals from any Wix experts. They will assist you.
Conclusion on Wix E-commerce
Wix is more popular and powerful due to frequently added new features every day. No matter what kind of website you need. Either personal, business, E-commerce, Education, or real estate.
All kinds of websites can be designed from the Wix Platform. They give hosting, domain, and email accounts within one dashboard. And Wix is a high-security website. Feel free to comment below with any questions.