Google Drive is one of the products of Google that facilitates the safe cloud-based storage of files and documents free to users. It was developed to store the data of users securely on Google servers, Synchronize, and share files freely and freedom.
Once you have saved your data in google drive in the presence of an internet connection you are free from the worries of safety and backup of those data.
The saved files in google drive can be freely edited or modified, used for teamwork, and it can be accessed from any device like mobile phones, laptops, computers,s or tablets from anywhere with the login to google drive by the same Google account.
Any data like files, documents, images, or videos stored in google drive can easily be accessed by searching with the label of the content or simply by their file's title name.
It also sends a notification if any activities are occurring in the files and you can view the history of files and history of any changes made on it, By login into google drive.
It is also regarded as the hard drive of the modern era and it offers free storage of files up to 15GB in a secure cloud if one wants to store more data he/she can subscribe and pay some amount monthly or annually to get more storage space as per their requirement.
"Users can upgrade more space and purchase pro plans by google drive log in and by making payment on it."
Google Drive also gives the option for its users to store files whether they want to make them private or share them with their team or friends.
What is File Storage?
File storage is the hierarchical storage or backup procedure of the data in the system to view, arrange, and store the data safely in the hard disk in a preferred folder and location.
Hierarchical storage of files is appropriate mostly for those amounts of data that can be easily organized in a structured way.
In the course of file-based storage, all of the desired data and information is saved in a file and managed in a folder properly.
Those folders are categorized on the basis of the hierarchy of lists.
File storage is probably one of the easiest and simple ways of storing files and is helpful for those types of companies that need centralized, approachable, and economical methods for the backup of files and folders.
File storage is popular and best suited for storing, managing, and organizing the limited number of files that can be stored in the storage of the server.
It is also best for the safety of the data inside the file in case of failure of the system because the service of cloud-based file storage helps to protect and recover deleted data in situations of a breakdown/crash of the system.
What is Google Drive?
Google Drive is one of the most secure and popular file storing and backup platforms where you can access, view, modify, share, and store files in Google Drive within a secure Google server.
The cost of maintaining and upgrading cloud file storage depends on what kind of service and companies you are choosing for the storage.
9 Google Drive Features You Must Use
Google Drive help to secure large data and it is a beneficial app of google for every kind of user.
It has got a lot to offer like huge storage of files, can access the documents and data from any device in the presence of an internet connection, file sharing, observing the changes, editing, and commenting, synchronization of those files in the server, etc.
Below are the benefits and features of google drive:
1. Create a Secure Backup for Your Important Files in Google Drive
While importing your data and files in google drive you don't need to be worried about losing the data even if your device got lost or broken.
Files that are sent via Google Drive secure the data and provide backup for all kinds of files even if your files are important projects or documents.
Google Backup saves your files in their safe centers and gives you access to those files even if you try to access them with another device from anywhere and anytime.
You can get your files, images, documents, contacts, emails, etc on your new device but you need to remember your account id and password before accessing to google drive account.
The privacy of your files and documents fully depends upon you whether you want to share them with others or not.
"Using google drive is effective and beneficial to all kinds of users but it is equally important to protect your login credentials yourself."
2. Both Paid and Free Google Drive Accounts are Microsoft Office Compatible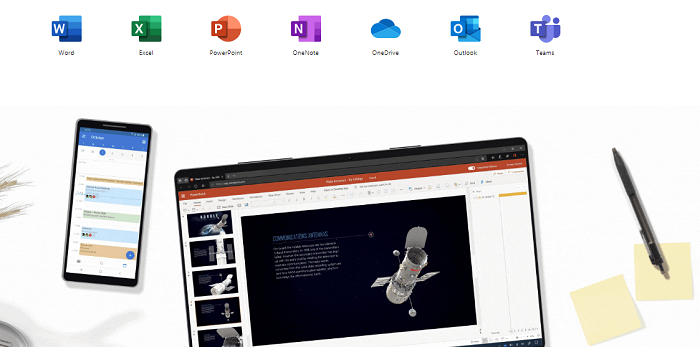 Image Source: www.office.com
People can also, benefit from Viewing Microsoft Office documents directly to google drive.
Microsoft is one of the well-known reputed companies. Along with its name, its products are popular too.
One of the most powerful products is "MS-office" which is widely used for different purposes. Inside the Microsoft Office package, they have Ms-word, Powerpoint, Excel, Access, and more.
Even user create their files and documents in Microsoft Office, These can be readable and easily edited on google drive.  Google Drive is well compatible with Microsoft Office with all its versions.
Google Drive is such an application that keeps every file in one place and allows us to customize folders and sub-folders.
People also use google drive to create slides and presentations, business accounting and office document work, and a lot more.
If you have transferred your all office files and documents to google drive then also you are allowed to make changes and save them in the drive later and the selected person can view and edit them.
3. Google Drive Helps to Share Your Images, Videos, and Files With Your Contacts
Google Drive is not only known for its storage service of files and folders but also for the ability to share saved files with the person within your contact list.
Anyone who uses drive in Google can share their files, photos, videos, etc with anyone who has a Google account whenever they want.
To continue to Google Drive users need to be logged in to google drive first. and it gives you the ability to share, view, work, and comment on the same file at the same time with multiple people.
Talking about the individuals, they can also quickly send their images, videos, and other documents to their friends or relatives within their contact list.
To share the data with your contacts first you need to select the file you want to share and you have to choose with whom you are going to share it.
Also, you can set up the option to allow them to edit and modify your files or not.
The owner of files has full control either to let their contacts watch and download them or not. Anyone can send files of any size easily with the use of Google Dr.
4. Even Large Files Can be Sent Quickly
Google Drive is capable of sending even large files to family or business clients easily which is difficult or impossible with many other applications.
Google Drive is the best option not only to store files and documents but also to send files that are extremely large.
For personal use, you can send your HD videos or images of some ceremonies or special moments to any person from your family members easily even if it is large or bigger in size.
And also for professional purposes if you want to share some large projects or documents containing huge sizes with your colleagues or your boss or anyone from your office, then google drive is always there to complete the sharing procedure conveniently.
You can use google drive to transfer large files in the following ways:
At first, the files you want to share should get uploaded to google drive, and then while attaching the file in the email select the 'Insert from Drive' option and choose the preferred file and click on the "Send button". Then your files with a bigger size will be sent.
5. Google Drive Helps to Access Documents Like Word and Excel
Another great feature of google drive is that it helps to access the documents like Word, excel, and helps to edit them whenever required.
As google drive is well compatible with Microsoft Office, It allows users to open, view, and make changes in those documents.
The documents and files you have saved in google drive may need to get edited after some interval of time for different reasons.
In such a situation, users do not need to download the files to edit, Because they can just edit any documents within the drive.
To access and edit files you need to connect your Google Drive with a Google account and open those particular files in google chrome through Windows or a Mac and edit them by login into google drive.
While in IOS or Android to edit documents you can simply download apps from their stores for free. And google Drive is there to manage all of your documents and update the required changes.
I recommend creating google drive backups from time to time for protecting the original documents before editing and modifying them.
6. SSL Encryption, Trusted, and High Security
Google Drive is the place where people save their personal files, sensitive data, and business documents by trusting its service.
Google Drive is highly trusted for its security service storage.
Drive saves all of our documents on its own server in the cloud.
It stores every data encrypted with powerful encryption of 256-bit SSL/TLS while transferring the files and 128-bit AES keys while resting them at its server which makes anyone hack, crack or decrypt the documents difficult and impossible.
If the user has made a change in its files then it is updated in google drive with new encryption and key that strengthens its security more.
Also, Google 2-step verification gives more security to protect login to google drive from unauthorized users.
Until you verify the SMS code from your mobile, You cannot log in to your Google account.
This is the reason why every user from different individuals to huge organizations trusts google drive for the security of their files and documents.
7. Google Drive Documents Editors, Google Drive Backups, and Drive Apps From Google are Completely Free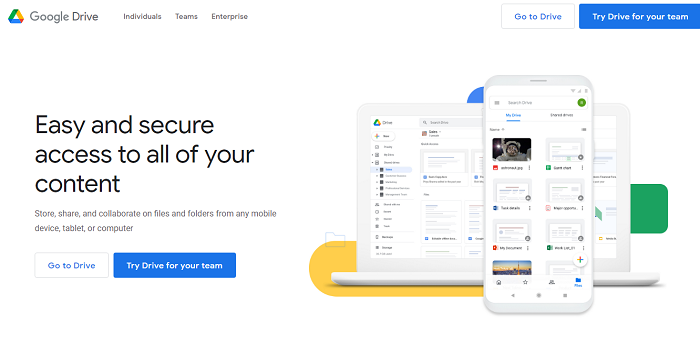 Google Drive is a widely used cloud storage service that gives the service storage of every file, image, video, contact, or document.
And also it lets its users access those files from anywhere with any device like mobile phones, tabs, computers, and laptops that are also free of cost.
Google Drive on your iPhone and Android with its apps has a better experience comparing accessing from phone browsers.
To get the free service of google drive you need to get google drive downloaded on your device or simply access it from a browser by creating a free Google account.
The specialty of google drive is that it gives free storage of up to 15 GigaBytes plus the security of the data of its users without charging any cost.
That 15GB storage includes space for Gmail and photos also and that space for storage can be enough for normal people.
But the business can enjoy this free platform up to 15GB and if they require more space for their records, they can subscribe to the premium plans that offer many additional features and benefits with additional space.
8. You Can Easily Search Your Files Even From a Large Database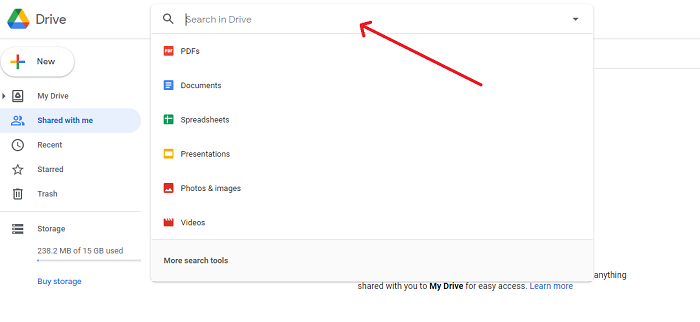 Searching bulk data is never easier if you have tons of files inside multiple folders.
You may believe that in any urgency it may be difficult to find the particular data easily in the huge mass of the files.
Google Drive gives the feature of searching for files with their names, featured items, or definitions of the subject of the file.
To conduct the search process, You need to go to the google drive site or an app, and at the top, It has a search bar where you can type the file name or definition and click on the search button then it shows you the related files from where you can choose the file that you want to access.
Also to find the files with more ease it gives the option to filter the searches which filter the data and limit the search results which helps to save the time of searching for the documents even in search results.
9. Able to Access From Multiple Devices Including Mobile and Tablets

Another best feature of google drive is that once you save your files in google drive it is able to access them from any device like mobile phones, tablets, and computers by login in with the same Google account.
This accessibility feature of google drive gives benefits and security to its users and is easy to navigate especially in the case when the device of the user is lost or broken.
They can access their dr google data whenever they need it but there has to be a presence of an internet connection and the users need to remember the account and the password to open google drive on other devices.
Google Drive vs Dropbox
Below is the comparison between google drive and Dropbox.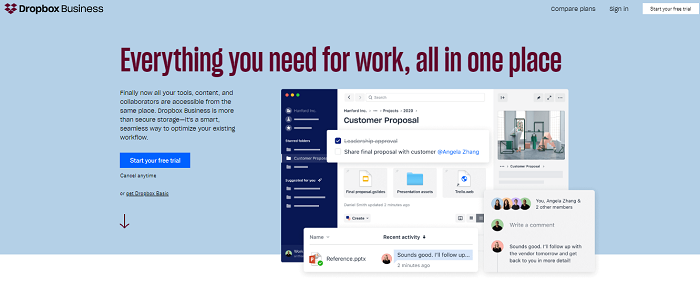 Google Drive and Dropbox, both are products that give service cloud storage securely for every kind of data either personal or business-related, and let their user share their files and also keep them safe and secure within their server.
They both are very popular but has some difference in features and have different benefits.
I personally use both storage service to secure and backup my data.
Dropbox is well known for quick file synchronization because it uses block syncing which can synchronize the data in numerous devices including Linux and also it facilitates recording the changes every time it is made in a particular part of the file.
Whereas google Drive is slightly weak in synchronizing files in comparison to Dropbox.
Google Drive provides a storage space of 15GB for free but Dropbox only gives the space of 2 GB to store the data with their free plan subscriptions.
Features of DropBox
Here are the features of Dropbox:
You can create, save data and share content in the cloud from google drive, docs, slides, Microsoft Office files, etc.
You can easily access your group work or teamwork from any device including mobile, computer, or from a web browser.
Around the globe, More than 500,000 teams are using the Dropbox business.
Dropbox and google drive or Docs both are good at sharing files with many people.
My favorite reason to choose Dropbox and google drive are:
I love the free 15GB space of google drive and their free docs, sheet and slide tools. And quick process of google drive logs in.

I love dropbox premium plan for additional powerful features like Mobile offline folders accessing features and document watermarking features.
Dropbox also has a partnership with Microsoft Office that lets users save and edit documents with ease.
It also has added its own products like Dropbox transfer, dropbox paper, etc, and has joined with many other service providers like Adobe and many more.
Overall, both are good cloud storage providers and are better in their own way where people can choose google drive or Dropbox as per their requirements.
My Thoughts on Google Drive
Google Drive is one of the most popular, trusted, and advantageous products of Google that have helped and made the task of its users easy. You can connect your Google Drive easily to any device without technical knowledge with its simple-to-use interface.
It has every feature that is required to become one of the best full-packed storage service providers.
It doesn't charge for the service it provides including space of up to 15GB to store your data, it secures and provides backup for your files so that you do not lose your important file in case of uncertainties, and the drive is well coordinated with Microsoft office products which make editing of the office files easy.
One can work on their documents in coordination with different partners or colleagues and make changes to those documents.
You do not have to worry about the files if you forget to save them after editing them because it autosaves your files once you complete editing them, you are allowed to share any kind of files with anyone, etc.
It is perfect on every side that no matter how much you describe, it would not be enough.
In this date of crimes and hacks, scammers try to Abuse google Drive or try to hack your Google account.
But it is very necessary and your responsibility to secure sensitive data and information with the different layers of security.