The freelancing term itself is freedom working. Anyone can work in their own time or schedule without depending on anyone. In this article, you will learn about how to become a freelancer and Find The Perfect Freelance Services For Your Business.
Let's say the designer got logo design work from any client, in a fixed budget to complete in 7 days as delivery time or a deadline.
Now it's the responsibility of the designer to complete a specific task (logo design) within 7 days.
No matter which schedules the designer chooses to create a mockup of the logo or final piece.
We can say freelancing is a working method in that anyone can work freely within their workspace or at home without worrying about others' schedules or without depending on anyone.
Freelancer demand is increasing day by day as well as designers, programmers, writers, and virtual assistants are changing their track as full-time freelancers.
There are lots of popular freelancing platforms like Upwork, Freelancer, Guru, and PeoplePerHour which allow clients to post their job and freelancer to create a profile and bid on specific projects.
In this entire article, I will share my all experience, my journey to freelancer, my mistakes, my success, and how I work now as a freedom worker (Freelancer).
Below are quick tips if you are startup on freelancing business.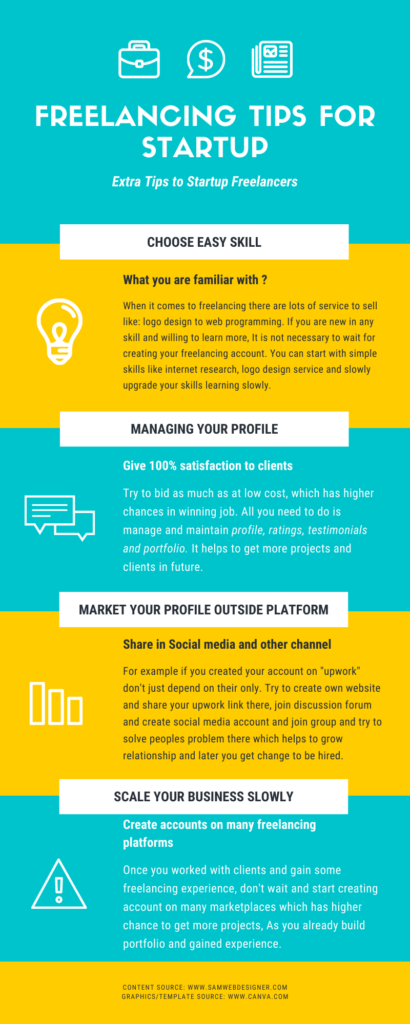 My "Upwork" Profile Screenshot
Upwork is one of the top freelancing marketplaces where a client hires freelancers for their projects.
Inspiration is the energy that activates your mindset more than usual. Always be inspired.
I myself used to look at others' articles about how they earn money, and how people wake up from a failure.
It helps to feel their experience and will avoid the same mistake that might happen ourself in the future.
When I started freelancing, I created accounts in many marketplaces and did some projects, But out of all "Upwork" grew better for me. I made some mistakes on other platforms and some of my accounts got banned and some grow. But I learned a lot from there.
As time passed and I focus only on Upwork and still working as a web designer. Including many tips and tricks, You will also learn the mistakes that I made during my career. Hope you will be aware much.
Freelancing is not a "Become a Quick Rich Scheme" and you need your effort and hard work.
It is virtual work that anyone can do freely. I love to share some of my profile reviews, portfolios,s and my "Upwork" account screenshots.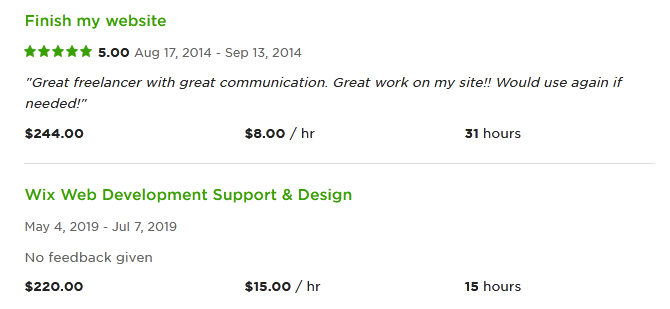 I am a web designer and provide services as a Wix website designer and WordPress expert. You can choose your own skill which you think is the best. Choosing skills is based on your expertise.
So, the above image was my few screenshots of the "Upwork" profile. For inspiration, you can check others' freelancer profiles too.
What is a Freelancer?
Freelancers are those who are willing to work as independent contractors from their own workspace or home without worrying about others' time schedules.
Freelancers may be both companies or individuals.
Freelancer companies or agencies can also hire employees within their offices to complete the client's outsourcing task.
Freelancers either can be web designers, graphic designers, article writers, photographers, events and task managers, virtual assistants,s and more.
Things to Be Considered Before Working With Clients
These are the remainder of the important tip before you as freelancers
Check clients hiring rate and job posting history which helps to know about how large the client is and how many projects they are posting monthly.
Make sure to check clients' ratings and feedback from other freelancers, It helps to understand clients' responsiveness, budget, and activities.
If you are seeking a freelance job from a local or within your country, Make sure to check clients' locations before working with them. (you can also filter country and location while searching job).
What is a Client?
Job posters that are seeking projects to be done by an expert (ie: freelancer) and party that hires freelancers are clients. They post a job in the freelance marketplace and choose the best proposal before hiring anyone.
They have the option to check freelancers' job histories, job portfolios, previous client ratings, and testimonials. Depending on the best price compared with many applicants, Clients hire freelancers within the same platform.
No matter if it is a micro job or a large project, the Client will get any kind of freelancer for their project.
Things to be Considered Before Hiring a Freelancer
These are some important tips before you hire freelancers for your projects.
Check the freelancer project portfolio that helps to see their existing work as a sample.
Make sure to see where the freelancer is from (freelancer location), It is always easy to hire with a native language. But you can still choose an international freelancer because most of the freelance marketplace has its a secure system to prevent fraud and protect payment through escrow.
Take time to read freelancers' previous reviews, feedback, and testimonials that are given by clients. This helps to understand if previous clients are satisfied with their work or not.
How Does Freelancing

Work

?
This simple Illustration will help to understand how the client and freelancer work and their working process.
In general, many freelancing platforms work similarly to the above image module, But some are differently called "Gigs" where the freelancer does not have to bid for the job.
They list their service as Gigs and clients place an order. The best example is Fiverr.
The freelance marketplace is a platform that allows clients to hire freelancers and make their work secure, and easier, and solve disputes between both parties if occur.
"You may be thinking about how Canadian clients trust to hire freelancers from the UK?"
That's all due to the marketplace system. They protect payment in escrow, Allow messaging software within both accounts, create contracts, provide support, and a lot more.
It is always a safe place to hire and work compared to simply working with an unidentified person from the internet.
Benefits of Freelancing
As I mentioned above "Freelancing" term itself comes from the freedom of working. And it has lots of advantages for freelancers. Some of them are mentioned below:
1. Schedule Your Own Routine and Time
Are you frustrated with waking up early morning at 5 am? Is, Difficult to be presented on an office schedule? Worrying about road traffic? Dominated by the boss while late in time?
These are really bullshit happens sometimes in our life. I personally passed these days at my job career. :(. I am a full-time freelancer now.
Freelancing gives freedom to make our own routine no matter where we are from.
2. Economy Workspace
Creating a workspace, paying rent, and hiring employees may cost higher in the budget. But here, you need a good laptop and a proper internet connection instead of working with your clients.
This results in saving money and working more freely.
When I started my freelancing career, I was a student and never set up any professional office.
When I got my free time, I used to jump onto a laptop to bid on projects and work with my clients even sometimes from my college canteen. :).
After a few years of freelancing journey, I realize to work myself from the home office which was not too expensive.
Because my office was my bedroom with table, chair, printers and a few other appliances.
3. Gain All Rounder Experience and Develop More Skills
This is human nature, as you grow working you will gain more experience. Our mind is always curious to learn more every day.
As a freelancer, you will get a chance to work with different clients around the world with different businesses. This helps to grow more attention towards client projects, their language, culture, new tools, and a lot more.
Sometimes you may need to work with unexpected tools purchased by your clients, You feel enjoy and learn more outside of your familiarity.
As a non-native English speaker, freelancing gave me a chance to learn English skills and other software and tools too.
4. Spend More Time With Your Friends and Family
If you are staying with family, Ask someone the story about homesickness and loneliness. It does only not affect your mentality but also your business.
No one wants to be far from family. Either it is their commitment or many other reasons for those staying alone.
Staying with family and working from home is always super-powerful which helps to reduce stress and less chance of depression.
Remember a cup of coffee with your mother's hand while you are working and a joke about your brother when you are upset. These are natural immunity to boos our brain to forget workload and make us more energetic and positive.
Combine this family power with your business. Obviously, results are successful in less time.
Choosing a freelancing career is the best way to make relationships stronger and live with family.
5. Focus on Multi – Business
As I told you earlier, you have your own schedule to work, You can focus on more business and investment.
I personally take a 2 pm-4 pm break daily and visit the local market to search for a new investment opportunity and meet with new friends.
Similarly, You can schedule your own time to rest your work and can find any business opportunity, do refreshments, Participate in events, meet your friends, or watch a movie.
Along with your work, entertainment activities are good practice.
Disadvantages of Freelancing
This is always a fact, Everything in this entire world has merits and demerits. Similarly below are some disadvantages that I personally had in my freelancing journey:
It is general, If you have no boss, you are moving towards unprofessionalism. More freedom sometimes causes mentally not serious about the job.
You may lose confidence in interacting with new people due to the virtual and lonely workload.
You are not getting a vacation due to the workload in your own business.
Difficult to wake up in clients' time zone, As you will have international clients from different countries.
But it all depends on how you manage your schedule and your work process.
Difference Between Freelance Worker and General Worker
Here, I tried to differentiate between freelance workers and general workers:
Freelancer timing is set by own whereas worker follows their time according to their employer/company rules.
Freelancers' Physical interaction with new people is minimal compared to the general workers.
The general worker is more disciplined compared to the freelance worker on their job.
Freelancer earnings are not stable. Sometimes more or less. Whereas general worker income is constant and changes in a promotion or on special occasions depending upon the company's rules.
How to Learn Skills to Become an Expert
There is a saying, Learning is earning.
As a freelancer, there are lots of options and services to choose such as Graphic design, digital marketing, writing and translation, video and animations, programming, business, and more.
It completely depends on you. It will be easier if you have the existing skills and slowly grow to develop more. Freelancers can take online courses or even learn from internet research.
If you want to know my personal skill, First I used to work as an internet researcher and data entry Clark, I upgraded my skill to a graphic designer later and again web designer and actively working in these two categories. But web design service is my major area these days.
First, I learned all for free from Youtube and resources from Google. Later joined some professional courses by paying some amount.
I love to share some good platforms to grow your skill as a freelancer:
1. SkillShare
Skillshare is one of the best learning platforms where you can grow your freelancing skills. You can find free as well as paid courses here.
The best part of this platform is before paying fees you can access a free 7 days trial and access unlimited courses.
You can learn different courses like animation, creative writing, film and video, graphic design, illustration, photography, and much more.
2. Lynda (Linkedin Learning)
Lynda gives solutions for business as well as for higher education. Now Lynda is moved to LinkedIn Learning.
Freelancers can learn thousands of courses here including software development, design, business, web development, photography, and more.
If you have a team, It is also useful to train them through Lynda.
If you have good skills and talent, You can apply to become an instructor here.
Similarly, You can access the Lynda course for one-month free as a trial.
3. Udemy
Similar to LinkedIn learning and Skillshare, you can find thousands of courses on Udemy.
Some Udemy course examples are development, business, finance and accounting, IT & software, design, health and fitness, sports, and check more on their website.
Before purchasing any course, you can see students review and comment on a specific course. This helps to understand how the content inside the particular courses.
Udemy can also be accessed worldwide in any country.
The Problem That I Faced During My Freelancing Career
I love to share the problem that I faced in my 5 years of freelancing career. It may help you a lot to be more aware:
Payment transactional cost while withdrawing money was the first problem for me. When I choose my payment method as "Wire Transfer" (It is an international bank-to-bank transfer) Their transaction cost was very higher around USD30 per transaction. I tried lots of methods and finally found PayPal as the best alternative. You need to take care of transaction fees carefully instead of reducing expenses.
Some marketplace commission is higher up to 30%. It means when a client hires you on a USD500 project, the Freelancing marketplace deducting 30% is USD 150 which may be painful to you. Better to choose a freelance marketplace that charges as much as a low commission.
If you did not make satisfaction with the client or do not maintain politeness and response in time. You are likely to get negative ratings and testimonials from them. Which results in a bad reputation in your profile. Also, try to respond to each testimonial you got from the client.
Before publishing a client's project/work on your profile as a portfolio, Make sure to ask permission from your client.
Before accepting a contract make sure, you understand the client's requirements and accept the job if you think, You can deliver on time with better quality. You are likely to be referred more clients from your existing or they will be your repeated client in the near future.
I still remember due to a late response to their message, I lost many contracts. Clients are international and their time does not match yours, which results in missing quick communication, and due to high competition, high chance of hiring other freelancers. To avoid these problems, Try to install a freelance marketplace application on your mobile to make it handy, or make a habit of checking email regularly from your mobile.
Never share your personal phone number and email address outside the freelancing marketplace, This may result in the suspension of your account.
List of Top Freelancing Marketplace
There are many freelance marketplaces you can find online, But the below list is my favorite and one of the best in the freelancing industry.
1. Upwork
Best Platform to start freelancing for beginners
Upwork is formed by two big freelancing marketplaces "Elance" and "Odesk". Later they merge and the new name is "Upwork".
Personally, It was my luck as I first started on both Elance and Odesk, and my account is merged later in a more powerful way in Upwork.
This is a single freelancing platform where I completed more than 150 web designing projects for different clients.
Upwork is the most popular and best freelancing website for those who want to start their career as a freelancer. They have a good interface and an easy dashboard that everyone understands.
Instead of submitting a proposal on the job, freelancers have to spend connections. By default, it allows Freelancer 40 to connect for free and you can purchase more as an option if it is needed.
Many top companies like Microsoft, Airbnb, and Automatic recommended that Upwork marketplace is one of the best in the industry.
2. Freelancer.com
Search for more projects based on data entry, virtual assistant, and other administrative jobs
As a web designer, to say truly, Freelancer.com is one of my favorite websites I saw on the internet. I am talking about their website interface, responsiveness, and loading speed is outstanding.
This is also a big reputation of the "Freelancer.com" marketplace and it accepts all international freelancers and clients to bid and post the job.
You can find every kind of freelancer from graphics designers, Software engineers, writers, digital marketers, and more here. You can trust this platform and apply to become a freelancer today.
3. PeoplePerHour
Best for writer and content creator freelancer
People per hour is also another popular freelancing platform where clients post their job or can search for offers that are posted by freelancers.
Offer is a list of services that clients pick and order quickly without posting jobs and without selecting multiple freelancers.
As a freelancer, you can benefit both by submitting a proposal and listing your service as an offer.
You can learn more from their Academy course specially designed for new freelancers. Their customer support is very quick and helpful.
4. Fiverr
Best for selling multiple small freelancing services
Fiverr is another marketplace where you can find video editors, models, singers, translators, designers, programmers,s, and more talents. It is slightly different than all other marketplaces, where you don't need to submit a proposal.
You can simply post your list of services as a GIG, their team will review it and list it on their marketplace.
If someone is interested in your service they order gigs and your responsibility is to deliver them on time.
To see more examples of others. Visit this website, and get some ideas. They also accept "Payoneer" as a payment method which is more beneficial for freelancers from those locations where PayPal is not accepted.
If you want to promote your service outside Fiverr, they provide a profile widget to embed on a personal website which is a great feature if you have huge traffic on your own website.
But never try to contact Fiverr clients outside their platform by sharing your phone number or personal email. This may result in the suspension of your Fiverr account.
5. Guru
Best For web designer and programmer talented freelancer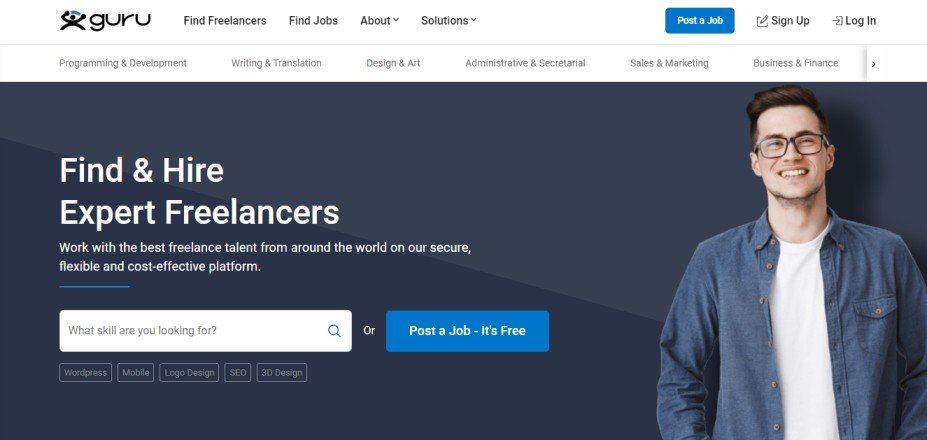 If you have skills like programming development, writing and translation, design, art, sales, and marketing then a Guru may be the best option to choose.
You need to search for a job post and apply there to submit a proposal. The client will review the freelancer cost for the project, timeline, their portfolio, and based on that you get hired on specific projects.
There are thousands of talented freelancers and agencies in this marketplace and it is one of the secure platforms for both clients and freelancers.
They also have strong customer support and there is a high chance to get a new freelancer profile approved.
They also use Escrow payment protection, Which protects clients and freelancers with payment guarantees. There is less chance of fraud and scamming if you follow their guideline and work or hire within their platform.
Freelancing Keywords & Terms
When you are new in any business, You see many new terms and are curious about their meaning. The same thing happened to me when I was new to freelancing.
I described some key points along with their meanings below.
A. What is an Escrow
Let's imagine, You paid someone before work or you are working in the hope of payment from your international client. Naturally, it is not secure, isn't it?
To solve these problems, Escrow is developed. Escrow is money holding place until freelancers complete the project.
For example in Upwork, before hiring a freelancer, the client needs to deposit the amount in escrow.
Now freelancers will notice the payment is deposited and once freelancers complete the project, the client will release payment to them.
If the client does not release payment, freelancers can complain to Upwork and they will check both parties' communication and send payment to the winner.
Escrow also helps the freelance marketplace to run their business smoothly and it helps in fraud prevention.
B. What is Portfolio
The portfolio is a sample of work or an example of a project you have done for your clients before.
In the future, you may be asked to show your portfolio as a work sample in order to check your work before getting hired.
That can be anything like web design, Lead collection, Data entry, or software development projects.
Also, Once you registered your account on any platform, you can upload thumbnails and links to your existing work.
C. What Reviews, Ratings, and Testimonials
Before a client hires you they may want to see the previous client's voice and feedback. To read previous client experience: reviews, ratings, and testimonials help a lot.
Along with freelancers, clients can also get testimonials and ratings from the freelancer.
Rating generally has a 5-star score and testimonials are the text given as per working and hiring experience.
D. How to Build a Portfolio
If you already worked for your client. You can simply take a screenshot of that project or share links to others as a portfolio.
But if you are new. You can start creating projects by choosing specific skills.
The best way to show a portfolio is to create a personal website or through LinkedIn.
But make sure to not give personal contact information if your client is inside the freelance marketplace. Because the platforms do not want external communication outside their website.
E. How to Submit a Proposal
Writing a proposal is one of the factors that impact the hiring rate. Simply do not write a proposal that contains many links and too long text.
Just make sure, you understand the job posting requirement. Do some research and write clearly and politely. It will be helpful if your proposal seems more elegant and eye-catching. Also, make sure to avoid your Grammar and typing mistakes.
I myself am "A WIX website designer". I love to share my proposal here. These are helping me to win jobs practically for many years. I hope this helps you too.
Note: Do not copy my proposal/Resume exactly. This is only for educational purposes.
F. Skills Ideas to Choose as a Freelancer
As I mentioned earlier, There should not be a complex skill to choose from. If you are in a niche, There are lots of opportunities to start with. The first priority is to try to deliver perfect job results and make clients happy. This results in a 5-star rating of ***** and good feedback.
If you are thinking about which skill is perfect to start as a freelancer, Here is a list to get more ideas before moving on the freelancing journey.
Graphic Design
Digital Marketing
Writing and Translations
Video and Animations
Music and Audio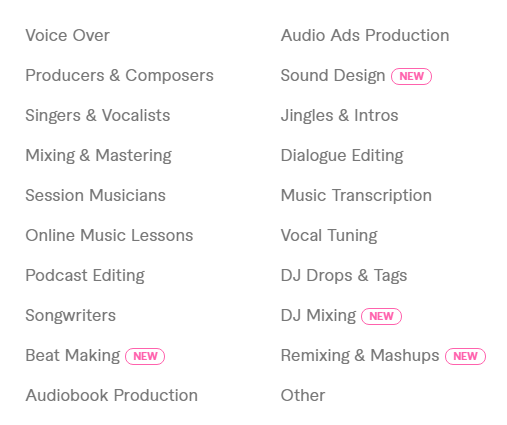 Programming and Tech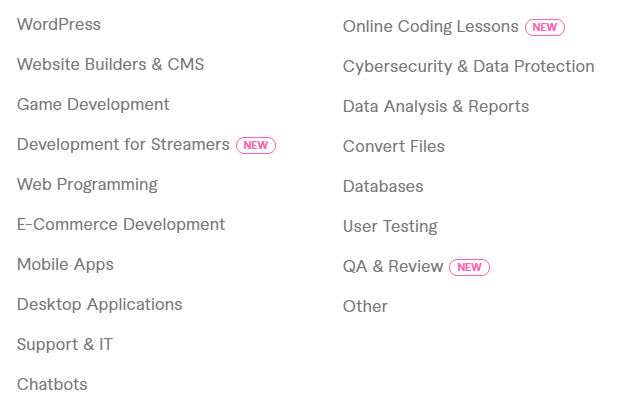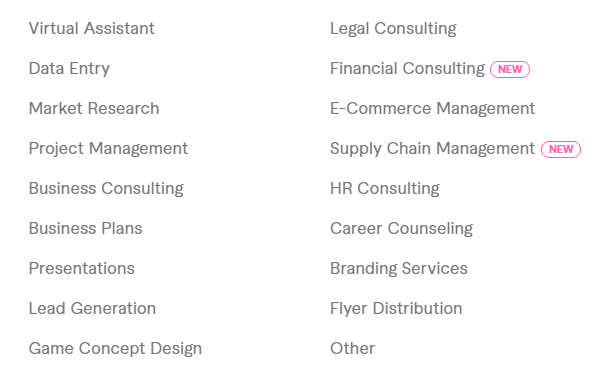 Business
Source: Above 7 Image Sources are from the Fiverr.com dropdown header menu
G. How to Withdraw Freelancers Earned Money
Each freelancing marketplace has different rules and payment methods. But generally, most of the platforms allow PayPal, Payoneer, and bank transfer as payment methods.
Paypal is always the best and most well-known payment gateway that is used by millions of people worldwide.
Where are Payoneer is PayPal's alternative that can be used by freelancers in those countries where PayPal is not supported.
Wire transfers and bank transfers are quite expensive and long processes to withdraw money. Instead, If you have no PayPal or Payoneer. You can try a bank transfer to withdraw your hard-earned money.
My Freelancing Story
Everyone has a story and it is always ups and downs. The real story tells experience.
Similarly, My freelancing journey was not easier. 5 years ago there were not too many blogs that share the complete process to start freelancing. Even if there were it depends on your own expertise, effort, and struggle.
I still remember after submitting lots of proposals, I got my first project in Elance. And the first client was not happy there.
I never give up and tried to continue my journey. Today I have been successfully getting clients every week and growing.
The overall lesson I learned is, Never give up, choose easy skills, try to work on a little budget, exactly understand client requirements, and be responsible and honest with your clients.
Make Profile Stronger With Free Online Certifications
When if you are in a competitive market, Certifications help a lot.
There are many platforms and courses that provide you with online certifications. But here I will share how I got certification from top companies like Google and Microsoft for free by learning and passing their online test.
1. Google Digital Garage Certification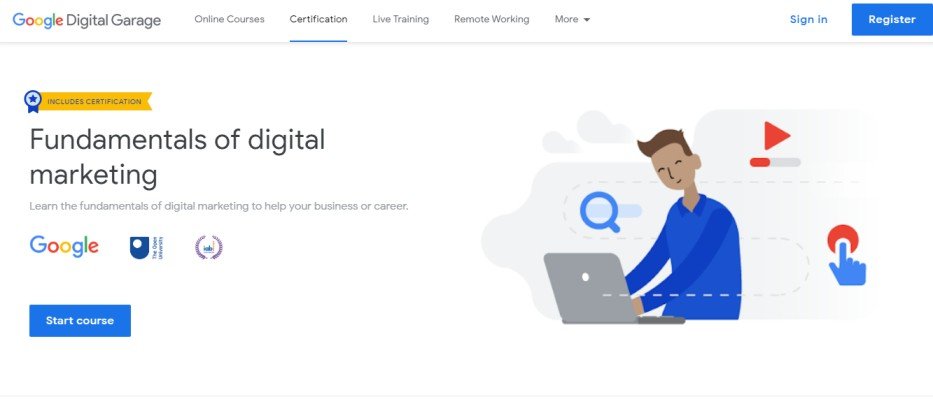 Google digital garage is one of the reputation online certifications on the internet. Which is issued by Google to train people online to understand more about digital marketing.
As the digital marketing scope is hugely growing and this course provides the best value. No matter if you are a beginner or an expert. It will help a lot.
This is completely free and I also complete this course and have this certification to show on my freelancing profile.
This course contains a total of 6 modules and you can learn this course on your own time. Personally, it took me about 4 weeks to complete the course and to achieve certification finally.
Inside this course, you will learn different skills like Analytics and data insights, Business strategy, content marketing, display advertising, e-commerce, email marketing, local marketing, SEM, and a lot.
This certification helps to improve your CV, find a new job, making freelancing profile stronger, and develop your new career.
2. Skillshop.withgoogle.com

Skillshop with google is another free course that helps to master Google tools. Depending on your skills and demand you can choose which course to read. Once you complete their free test. You will get a certification.
Here is the list of certifications and courses you can learn and get with skill shop with Google.
Google Ads
Google Ads search certification
Google Ads display certification
Google Ads measurements certification
Google Ads video certification
Shopping Ads certification
Google Ads apps certification
Google Marketing Platform
Display and video 6 certification
Search ads 6 certification
Campaign manager certification
Creative certification
Analytics Academy
Google Analytics Individual qualification
Google My Business
Google my business basics
Waze
Waze ads fundamentals
Out of these, you can find which skill is needed for you, and accordingly, you can take the exam once you passed, google will issue digital certification.
That is very useful to display in your CV or in your freelancing profile.
3. Learn in Microsoft
Learning in Microsoft is also one of the great ways to improve your skills If you are using Microsoft products for clients.
They also provide you with a certification that helps to make your freelancing profile stronger and we all know Microsoft is a worldwide reputed company.
Some of the skills to learn in Microsoft Learning are .NET, Azure, Dynamics 56, Office, SQL Server, Visual Studio, and more. You can visit their website to know more info.
4. Saylor
Image Source: Saylor
When I heard the first time about Saylor, I was shocked and can't wait to learn about their courses and successfully achieved a few certifications to showcase on my profile.
This is one of the fastest-growing education platforms that gives free certification if you passed their online exam.
This is useful for many industries like finance, history, arts, business, programming, and a lot more.
They also provide a direct credit program and certification program which is reputed in many united states universities.
If you are curious to earn certification, Don't wait and Go to their website. I believe you will love this too.
5. Alison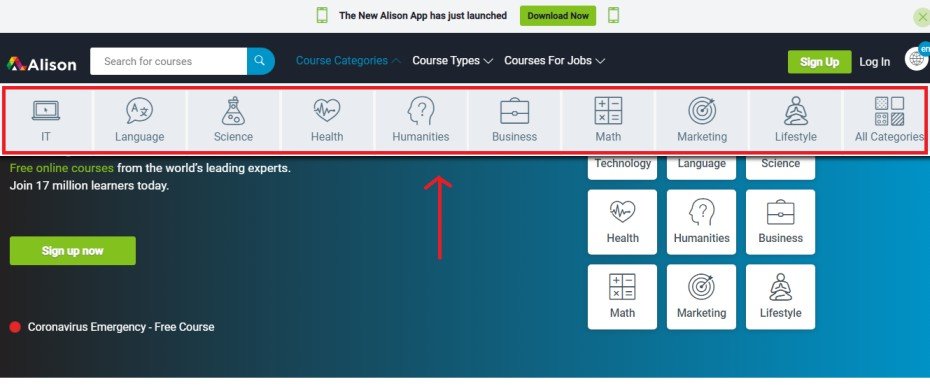 Alison is an ocean of courses of all kinds. This is one of the fastest-growing learning and certification programs where you can learn Digital marketing, Artificial intelligence, Machine learning, Finance and accounting, and a lot more.
This is not 100% free, You need to pay some amount for certification and they will mail the certification physically to your location. No matter where you live.
The best part of this platform is I personally learned Diploma in IT courses and it gives me a lot of knowledge as well as their certification is internationally recognized and helps to make my CV and freelancing profile stronger than having nothing.
If you are a good writer and have some knowledge, You can apply their partner program to create courses. Before that, you need to get approved by the Alison team.
How to Scale Freelancing Projects
How to Scale Freelancing Projects And How I Bring External Clients to Freelancing?
As I told you above, You are not allowed to communicate with clients outside the freelance marketplace because this marketplace doesn't want external communication.
This is a good thing because in case of dispute, they will review the conversation to choose the correct ones. Either client or freelancer.
But you are allowed to refer someone to hire you in those freelancing marketplaces. Even if they are from social media like Facebook, Twitter, or even from your website.
When you create a freelancing account don't just be dependent there only hoping you will get clients.
Yes, you need to be active in maintaining your profile and bidding on new jobs. But also you should target to bring more clients in order to hire you inside the freelance marketplace.
It is a scaling method. When it was my 3 year, I realize I can scale my project's volume and that there are different methods to bring clients as well.
So I love to share with you how I bring external clients into my freelancing profile and how they hire me.
1. I made a single-page landing page in order to receive free quotes from clients.
My service is related to "Website Design In WIX" So, I concentrated to make a landing page with great eye-catching content with stunning design and created submission forms for collecting leads.
Now I need traffic there, I tried different marketing methods like Google ads, Facebook ads, and Bing ads to drive traffic to my landing page. 
This way I got some leads and a few were interested in working with me and I told them to hire me through a freelancing platform that is Upwork.
There were two advantages I got. First is the security of payment via Upwork and second is my profile work history and ratings increased this way.
But you need to have proper knowledge of running ads. In order to get ROI (Return on investment) from an ads campaign.
For Example: If you spend USD500 on facebook ads and you got 2K clicks. Even two clients are converted on USD500 each than you will earn USD1000 which means you are in profit of USD500. "You can successful to get return on investment and profit."
2. I joined the larger business and eCommerce groups on Facebook.
Facebook is one of the largest platforms with millions of users. There are many groups where people came to learn new things and you can take advantage of there.
I simply shared my client's portfolio there and some guides related to the website tips and tricks regularly.
Also sometimes I tried to answer people's questions and few people contacted me for web design services. Those became my clients finally. This is a completely free method with little effort you can try it too.
3. List your profile as "PRO" in Companies
The best example is Shopify, WIX Arena, Godaddy, etc.
It means when you complete your client's website or any work. You can simply register in some companies that allow indexing Pro profiles.
For example, WIX has a list of their experts as WIX Pro Designers which allows them to list their profiles within their website and enable the client to choose experts to complete their projects.
I personally get 8 to 10 leads from WIX daily and on average 3 to 5 people convert as my clients per month. Here is a screenshot.

There are still many methods to drive more leads and get clients. But the above three are my favorite and I am still actively working on these strategies.

I will try to cover all strategies to get more clients in the future. Make sure to subscribe to my newsletter.
Few Best Tools That I Use For My Freelancing Business
Here are a few tools that I used for myself to do freelancing.
1. Wix: For Designing a client's website and creating a free mockup.
2. Divi Theme: WordPress theme to design a website for my clients and for creating landing pages.
3. Namecheap: For purchasing a Domain name at a cheap cost.
4. Easywp: To host only WordPress websites for my clients. It has good speed and free CDN.
5. Mocha Host: For hosting website. I love the add-on features of this website where I can add multiple websites on a single shared hosting package. It helps to reduce costs.
6. Google Docs: To create documents and share files with clients.
7. Grammarly: To check the grammar and spelling of content and avoid English mistakes.
8. Ubersuggest: Keyword research tools and analyze website traffic and get SEO audit report. It helps to improve website traffic.
9. Esigngenie: Creating a contract if the client does not prefer to hire through the freelance marketplace. And especially beneficial to work with local clients.
10. Screencastomatic: Recording Screen video and video editor to explain and train clients.
11. Zoom: Perfect for meeting with clients. Single or in a group.
12. And. co: For creating and sending invoices and project management tools. I love their recurring payment features too.
Freelancing – Frequently Asked Questions
1. I tried a lot and still not getting a job in Freelancing Why?
If you are a start-up and started freelancing. It is always harder in starting. Because you do not have ratings and reviews from clients.
But, If I can do you can too.
Don't lose hope and try to research more and see others' freelancer profiles and try to get inspiration from them.
2. What to do if I got the first response after submitting a proposal?
Immediately try to respond to their messages. Either they are asking questions or providing you with more requirements.
But always keep this in mind. You need to understand the client's requirements properly and try to respond very honestly and feel free to ask them any questions related to the project before accepting the contract.
3. What to share and what not with clients?
Do not share your personal information with clients because the freelancing marketplace may suspend your account.
They do not want outside communication. Also never share your client's information with anyone.
If you complete any project first ask permission from the client before showing it to others.
4. How to get more help in freelancing?
I tried to share as much information through this article. If you skipped any sentence read again. And hope my experience helps you a lot.
But also Keep in mind there are different policies and rules in every freelancing marketplace and company.
Make sure to understand their rules. Also, they have good customer support, If you need more help contact them.
Final Thought & Conclusions
Everyone loves to work freely and have freedom. There are lots of online opportunities and offers that talk about earning millions monthly. I personally do not trust millions of earnings in one month.
Freelancing is pure service-based work where you will be working with real people with your real service.
Only the difference is, it is a virtual/remote work process. Freelancing is a job where you can choose your own workstation and even from home.
When you start freelancing you may lose discipline or schedule. Always be strict on this and creating your own website is always your online identity to show more information related to you.
Freelancer is also beneficial for those who are willing to utilize part-time. Later you can convert it to a full-time job. But it's always your choice.