This is a Full Step By Step guide for creating a Wix website yourself.
Writing codes to make a website and learning this from a non-technical person was not so easier those days. But things change in 2022 and now I tell them, Making a website is not very harder.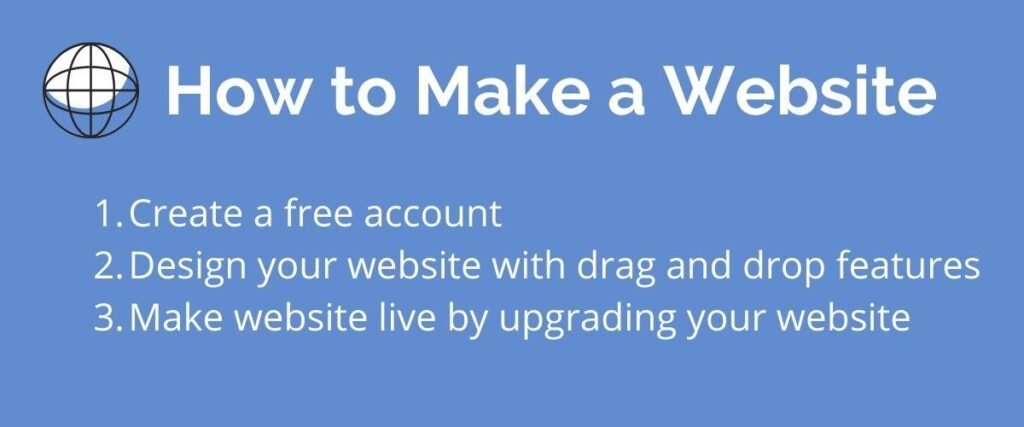 In fact, there are a lot of tools and software to create a website these days. Only the difficult thing is selecting the best tools. When I started the journey of website, I tested and designed websites using many website builders, Tested a lot of software.
Finally, I found a good one and many were not worth it for me.
Let's think if you have a bathroom outside your room, kitchen on the top floor, living room on the ground floor, and bedroom on the corner. Isn't this messy?
Think about purchasing a domain from one company, hosting from another, CDN from different, and many plugins separately to improve website functionality. This may be very confusing to many.
In my website journey, When I was learning, I faced the same problems and lots of confusion to select the best web designing tools. I was struggling to find such a platform that manage and provided all essential tools and multiple websites in a single place.
After a few months of hard research and comparing with different web designing tools, Wix becomes one of my favorites.
Traditional Ways of Making a Website
What if you got a chance to design your website without purchasing a domain and hosting? Isn't this cool?
This is the main problem every niche website designer is facing. I believe everyone should get a chance to see the design of their website and how it looks before purchasing upgrading or paying for hosting.
Modern Methods of Creating a Website
Isn't this very cool if you got a chance to design a website and check live to see how your website looks and before purchasing hosting plan?
In this guide, I will show the website builder that I am using for designing my websites and website for my clients.
Wix is a powerful cloud-based website builder software that helps to create multiple websites for users in a single account. It has very powerful drag-and-drop features that are very fast and it enables users to design any kind of layout and a beautiful-looking website.
Millions of users are using websites using WIX Today. It helps to create different websites including eCommerce, business, personal, professional, and more.
The website built in WIX will be very secure, mobile-friendly, and SEO friendly and they give several free useful tools like a contact form, social media plugins, automation features, lightbox, Videomaker, logo maker, and many more. These tools help to enhance and extend the user-friendliness of a website and help to make the website more automated.
I myself design websites using WIX for my clients. There are lots of reasons why I choose WIX. And the main reason is, It allows my clients to update their websites easily without knowing a single line of code. And I can manage multiple clients' websites from my single Wix account.
In my freelancing career, I already designed more than 200 websites using WIX and I am a Wix partner as well. I am not a very good writer but trying to guide you through what I know through my small blog.
Let me introduce myself as a freelance web designer working on Upwork as a freelancer as well as owning a small web design firm to help clients build their websites. Besides these, I am also a Wix partner and help Wix website clients to complete their website projects.
Make a Free Website Online Quickly
Website Creation Without Coding by Drag and Drop in WIX
Questions and Answers For Website Creation
How to design a website by hiring freelancers?
There are top platforms like Upwork, Fiverr, and People per Hour where you can see a lot of website experts selling their services. You can contact them directly and my best way to hire a web designer is, I search for local website designers on google maps and contact them directly by phone call.
Is Wix website builder free?
Free is also the main reason that I am choosing Wix.

Yes, you can create for free and publish to see what your website looks like.
But in the free version, there will be Wix ads as well as you cannot connect the domain name.
If you want to connect the domain and remove Wix ads, You need to upgrade to their premium plan.
But before buying and investing in your website, You can open a free account, Design a website with Wix editor, and publish.
Besides Wix which are your other best website designing tools?
To be honest, I also use WordPress for my personal website. There are many reasons for using WordPress as well as Wix. And both platforms are awesome.
As I mentioned above, every tool and product has its pros and cons.
How much time do I need for creating my website?
It depends on your skills and effort. At starting it may take more time but if you keep practicing you can update the website in very less time.
Website builder tools are very easy to use and user-friendly. As well as there will be a lot of free templates and premade layouts so users can design a website without spending a lot of time.
Are you a freelance web designer?
Yes, I love to introduce myself as a freelance web designer. I am working as a freelancer in the Upwork platform as an independent website contractor to help clients complete their website-related projects.
Pros of Making a Website in Wix
These are the Pros of creating a website with Wix Editor Software
Design First, Pay Later: I really love these features as we can able to design the website first and show it to friends, family, and clients to ask for their feedback first and purchase later.
Free Image and Shapes: Wix provides hundreds of free images, shapes, tools, and icons to use on websites to make a more attractive and user-friendly website.
Ready-Made Website Templates: They have a template library where users can choose hundreds of free templates related to different categories such as e-commerce, professional, blog templates, and much more.
Premade Page Layout & Templates: There are many premade layouts available inside Wix builders like stripes, blocks, slider gallery, and free premade page templates like about page, contact page, and a lot that can be imported at a few clicks.
Free Application Market: Wix develops an application market where users can use many free applications like contact forms, subscriber forms, Email marketing tools, SEO tools, and many which save money and time.
How to Make a WIX Website – Glossary Words
Here are a few important glossary words used in a website.
Domain Names of the Website
Domains are the unique identity of your website, If you provide your home address, People follow directions and maps to visit the door. Similarly, On the internet, by entering a domain name, Visitors will find or be able to access your website. For my blog, My domain is "www.samwebdesigner.com"
Website Hosting
In your mobile and computer devices, you need storage hardware such as a hard disk and Pendrive to store music, video, documents, and software. Similarly, you need space to store website information and website data. This is possible with hosting. Hosting is of different capacity. To make a website faster and more secure, You need to choose trustable hosting companies.
Website Builder Software
These are the online drag-and-drop tools and software that help users to build a whole website within their platform very easily without having any coding skills and computer programming language knowledge.
Header of Website
Headers are the top section of a website where users navigate and find a different page quickly. Generally, the header is the same on every page. Making proper navigations to the header is most important so users can find the important page of your website. The search option is also the best function to add to the header.
Body of Website
The body section of the website is a space to add content below the header section. Contents are generally images, articles, videos, graphics animations, and even a contact form. Each page has a different body with different content.
For example, a website's product page shows different products to users but the contact page has a body section with a contact form.
Website Footer

Similar to the website header, Footer also has fixed content from where users navigate useful pages and content quickly. Some common navigations website footer has are social page links, product categories, and website policies page links.
Plugins on the Website
Plugins are easy-to-use website tools and applications that help to give extra features to the website. For example, if you have a Wix store application installed on the website. Using these tools you can easily sell your digital and physical products online and accept money by integrating payment gateways.
SEO (Search Engine Optimization)
It is a marketing process. Or in other words, search engine optimization is the technique of making website contents and data search engine friendly.
For example, in On-page SEO techniques, the SEO experts are optimizing web page heading, paragraphs, image, and video properly aligning H1 to H6, Alt text so the search engines will understand website data properly and help to index the website to the top of the search results. Some popular search engines are Google and Bing.
There are three kinds of SEO those are technical SEO, On page SEO, and Off-Page SEO
1. Technical SEO
Technical SEO includes website speed time, SSL, Mobile responsiveness, and all technical-related functionality.
2. On-Page SEO
On-page SEO is the optimization of every page and post of the website aligning headings, paragraphs, and images and making every page search engine friendly.
3. Off-Page SEO
SEO works outside the website, It is counting backlinks from another website, and the reputation of your website DA and PA. (Improving domain authority and Page authority)
More websites give links to your website, You are improving your score in Off-Page SEO. But you also lose ranking if many spamming websites are giving backlinks to yours.
Guest posting articles on other's websites, Getting social shares, and participating in a discussion forum like quora.com are a few examples of off-page SEO.
Subscriber Form
Subscribers are the people who are interested to receive updates from your website. The subscriber form is a form to collect the email address of those visitors. Once the website collects the email addresses of visitors Website can able to send different promotional offers and newsletters to its subscribers by creating email marketing campaigns. Some popular email subscriber service tools are Mailchimp and Aweber.
Search Bar on Website
If the website is an eCommerce, Blog, or business site with a lot of pages and content. Navigations only are not enough to show all the pages.
If there is a lot of content on the website search box is very important so visitors can search and find interest-based articles within the website.
Post of Index
Post of index or table of contents is generally at the top of the long articles which helps users to find specific content very easily. If a visitor clicks any content inside the table of contents, the Page screen will move to the head (H1 to H6) of specific content. I also call this an "on-page anchor".
Payment Gateways on the Website
The payment gateway accepts payment from the website by reading the user's credit card, PayPal, and debit cards.
There is a lot of payment gateway in the market and some popular ones are Stripe, 2checkout, and Paypal.
In order to connect to the payment gateway on the website, You need to register your account as a merchant and integrate it into the website by completing the necessary setup.
Responsive Layout
Visitors coming to the website are from different devices like mobile, and tablets, and with different browsers like google chrome and Mozilla Firefox.
In the previous days, the website that was built with Flash and plain HTML version was not responsive on every device.
Responsive layout is all devices and all browser-friendly websites that are visible properly on every browser without cutting any content. Search engine loves the responsive website and there is a higher chance of ranking such websites in their search results compared to non-responsive ones.
Member Login for Websites
If you are running an eCommerce website, For faster checkout, Buyers register an account within your website and can quickly checkout in the future without entering their shipping address and other information every time.
E-commerce customer can also see their order summary within their account.
If you are creating LMS (Learning management system) or selling courses on your website. Students may need to download free resources from their membership account.
At this time Member login is very important. Sometimes business websites share some PDF and business-related information with their members only from member login websites.
Embedding Apps on the Website
There are many applications like Google Maps, google photos, and payment gateways. If you want to connect these applications to your website. They provide code that can be copied and pasted to your website for embedding those applications.
Blog on the Website
A blog page is important if a website wants to share regular content and news related to the product, business news, and any events.
On blogs page, websites share information and enable commenting and social share features to allow readers to share their opinions.
Blog post helps any website to grow engagements and social shares of their website, as well as Blog helps to get a website ranked in different search engines like Google and Bing.
Sub Domain
If you want to add any name in front of the domain or let's say if you are adding a store page on your website, It generally looks like "samwebdesigner.com/store".
Another way is, Url looks like "store.samwebdesigner.com". this is possible by enabling a subdomain.
The subdomain is used to categorize other tools, products, or services that are offered by the same website.
I hope all the above information helps you to understand different words related to websites. Now I am sharing steps to design your first website.
---
How to Make a WIX Website Using WIX Editor
How to make your own website?
1. Register / Signup Wix Account For a Free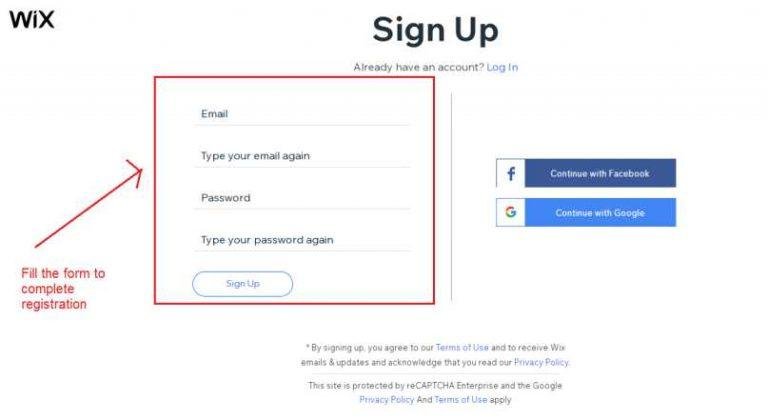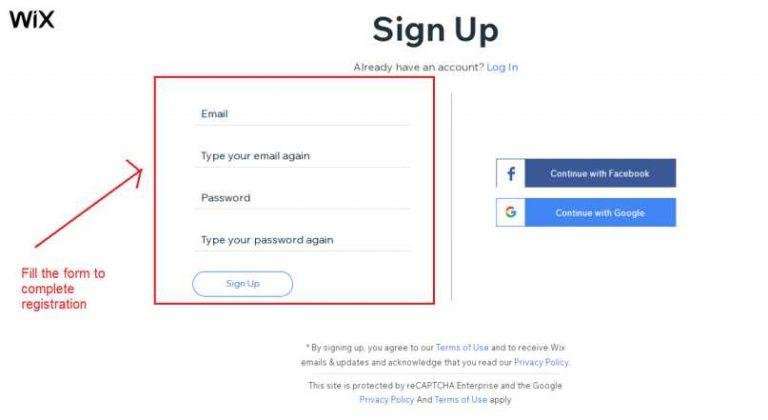 Go to wix.com, signup for a new account with your email address, and complete the account registration process. Once you register in WIX, do not forget to verify your email.
To verify your email please check your email inbox and click the Verification Link.
(Note: For faster registration in WIX you can either click Continue with Facebook or with Google.)
2. Complete a Few Questions or Skip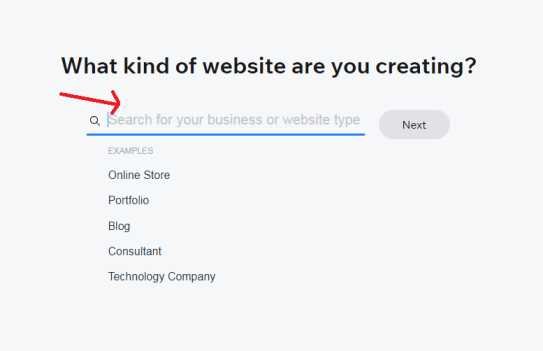 After you complete the signup process, a new window appears. It will ask a few questions to understand what kind of website you want to create.

Once you complete those answers, Wix provides matchable templates for you and they try to give a similar template of websites that you are looking for.

Wix has hundreds of templates in its template library to choose from.
If you want to create from scratch (without using premade templates) you can just skip the questionnaire.
But, In this guide, I will show how to create using Wix blank template.
3. Choose to Design a Website With ADI or Editor
Now, You will see two options Wix ADI and Wix Editor.
Wix Editor is a methodology for creating a website using their main editor software. Where and ADI refers to Wix Artificial Design Intelligence from where it will be very easier to design a website, especially for beginners users. Because ADI automatically guides users about color options, heading options, services, layout, pages, and more.
I am not very familiar with Wix ADI, But in this guide, I am sharing the web design techniques Via Wix Editor software.
4. Choose Your Website Template
Once you click "Create with Wix Editor", You will be redirected to their main template page, From here you can choose hundreds of free templates and start designing your website.
In the template search box, You can type any template that matches your business category. Eg: Salon, Parlor, Real Estate, CV, Ecommerce, etc.
Here I am sharing a guide for choosing a "Blank Template" So I can cover a method of designing the Wix website from scratch.
Click "Blank templates" and "Start from scratch".
5. Welcome to Wix Website Editor
Once you select a "Blank Template", You will see Wix Editor and can start designing a website in WIX by scratch templates.
There are different tools in Wix editor that enable users to make their website more professional and extend the features of their website to compete with their competitors. These tools also help to make a website more user-friendly.
Here are the different tools in Wix Editor:
1. "Add" Options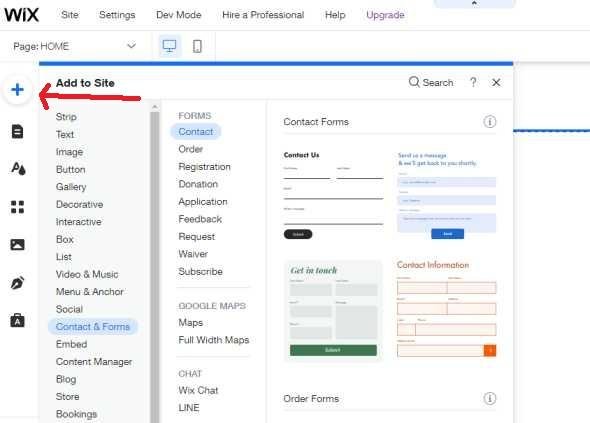 From these "Add" tools, Users can add different features like strips, text, images, buttons, galleries, vector art, contact forms, blogs, stores, bookings, and a lot more.
2. Menu and Pages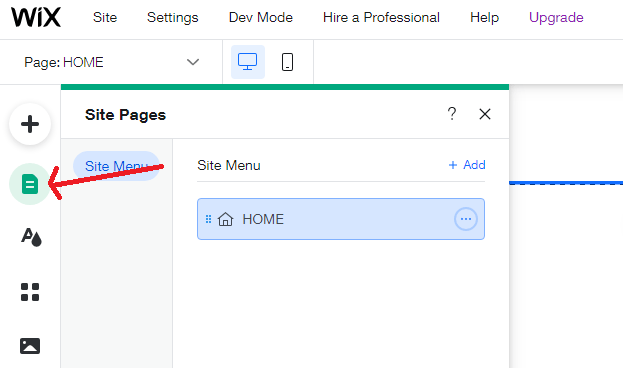 From Wix's "Menu and Pages" Tools, Users can add different pages and menus to the site.
Users can also choose premade page templates for creating different pages like about, services, project pages, contact, landing page, and even store pages. as shown in the image below.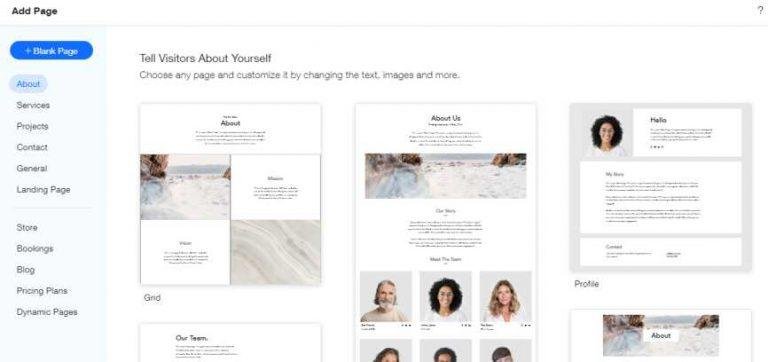 3. Site Design
From "Site Design" Tools, Users can customize the color of the theme, set page transition effects, choose page background, and can do a lot.
4. Wix App Market
"Wix App Market" is one of the important and powerful WIX features where users can find many applications to increase website performance.
There are a lot of third-party tools inside the Wix App market some are mobile apps, shippo, sprocket, gifted, Mailchimp integration apps, and so on.
Wix also provides many of its apps as free to its users. And some of my favorite free tools are the Wix blog, Wix forum, Wix chat, and Wix restaurants.
Some third-party apps are paid but most of the official Wix apps are free.
5. Media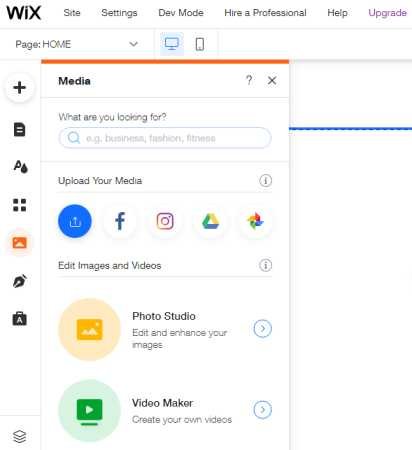 Wix "Media Tools" allow users to add video, images, and all kinds of media files. As well as users can embed Instagram feeds, google photos, and youtube videos to their websites using these tools. Most of the media tools are mobile and browser-friendly.
6. Blog
Articles on the website are very important these days, Google will rank websites that have high-quality articles and rank websites that are updated regularly.
If any companies need some news or information to share with their visitor via the blog section, This tool is really needed.
"Wix Blog" Tools allow users to upload articles in proper blog formatting in different layouts and styles.
7. Wix Ascend Tools
Wix Ascend tools help users to drive more traffic and grow their sales from the website.
Ascend provide different email marketing tools, SEO wizard tools, social post, video maker, Analytics to track website traffic, Finance features to accept payment from the website and many more.
6. Start Designing the Website in Wix Editor
You are inside the WIX editor and Now, It's time to get started with designing a website.
Basically, there are three main parts to the website they are header, body, and footer. Here I will share all step-wise.
How to Create and Customize Header in WIX Editor?
You are inside the WIX editor and Now, It's time to get started with designing a website.
Basically, there are three main parts to the website they are header, body, and footer. Here I will share all step-wise.
You can add different elements like a menu, search bar, social icons, logo, the tagline to the header.
If the website is e-commerce, you can add login and cart icons to the header. Please look at the video below to see how to customize Wix Header.
---
How to Create and Customize Body Section in WIX Editor
The body section of the website is the content part where you can put text, all kinds of media files, sliders, galleries, and information. Basically, each page on the website has the same header and footer but different content in the body.
For example, there will be different content on the home page body section and different content on the About page body.
The body section plays an important role in the website because it will show different information from different pages. And in the contact page, you can also put the contact form in the body section to enable users to contact directly to website owners.
Here I will show how to add different elements and content to the body and how to customize the body section of Wix.
---
How to Create and Customize Footer Section in WIX Editor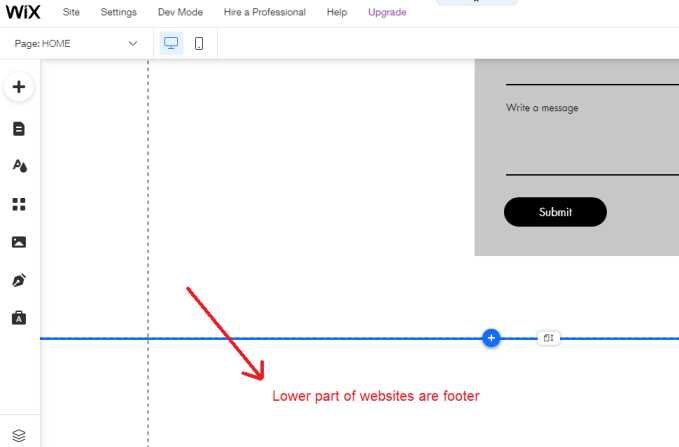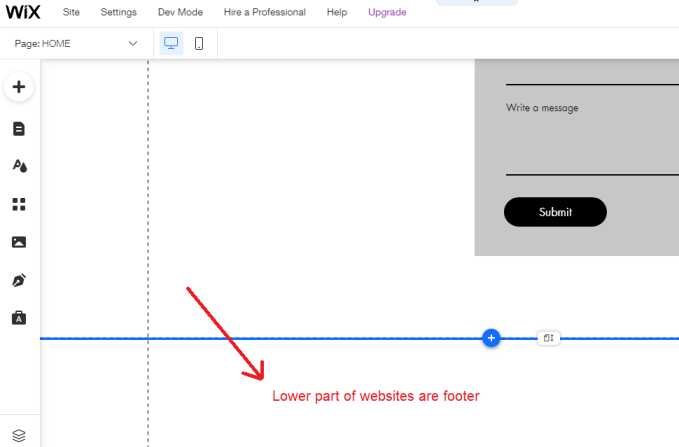 The lower part of the website is in the footer. The footer always has unchangeable content which means, If you go to a different page of the website, The header and the footer remain the same. The only body section of a particular page will change.
Generally, the footer has navigations, quick links, subscribe forms, and different policies of a website which help users to navigate a different page of the website very easily even if visitors are on any page.
The "Back-to-Top" button can be on the footer and in a sticky format which is also an important feature of a website that gives quick navigation functionality to users.
Here, I will show how you can quickly customize the WIX footer section.
---
Creating Pages and Contact form in WIX
Page is really important for the website to categorize different services and products. It is very easy to add a page in WIX.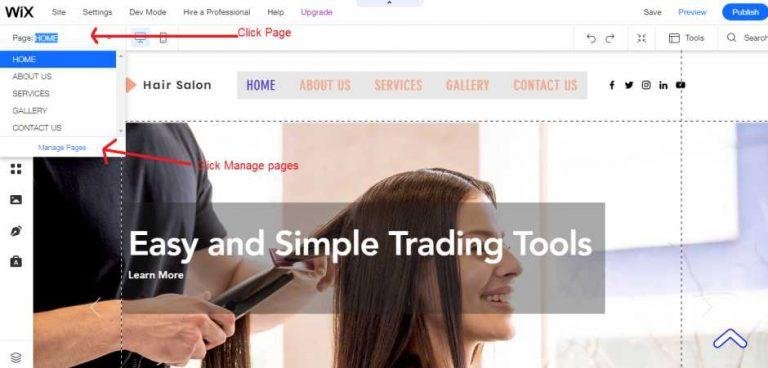 For adding a page in Wix, Click on the "Page" tab on the left top section as shown in the image above. And click "Manage Pages."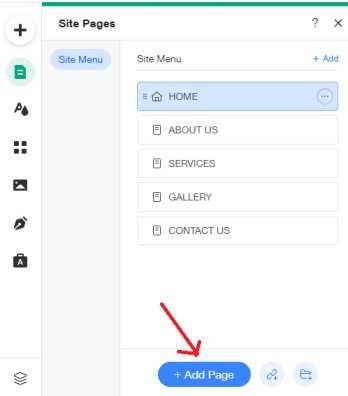 Now, Click "Add page", then you will see an option to add pages to your website as well as you can choose many free premade page templates.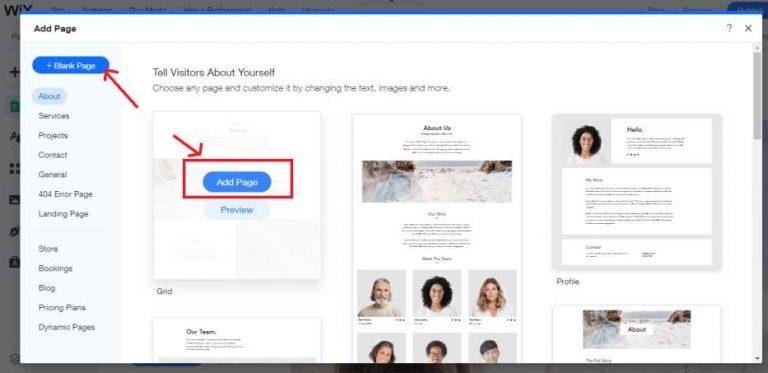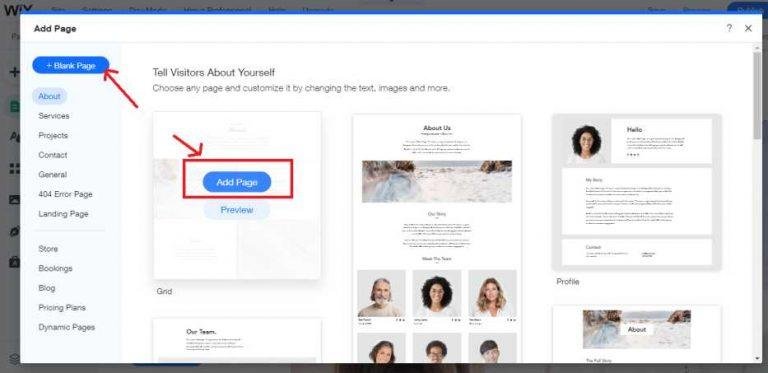 ---
Save the Website
Once you complete editing the website or once you made any changes, do not forget to click "save".
If you want to see a preview of a website without publishing, You can click "preview" and check your updates.
Congratulations, We made a simple website in WIX Together.
If you need any help designing a website, Feel free to contact me.
How to Make a Wix Website – FAQs
How many websites I can design in WIX?
If you are saying how many websites from a single account, Yes many, and the unlimited website you can design. And are completely free. If you want to connect the domain, You need to purchase paid plan (Wix subscriptions).
Is the website designed in Wix automatically friendly on mobile?
Most of the layouts are automatically mobile-friendly. But you can customize it more by opening mobile editor tools to make it more interactive on mobile devices.
What are the differences between WordPress and Wix?
In my personal experience, WordPress is cheaper to create a website compared to Wix. But Wix will provide many powerful applications for free such as contact forms, eCommerce features, and many more.
Is the Wix website secure?
Wix is cloudbase editor platform. And is very secure. there will be less chance of getting Wix's website hacked. But always keep a strong password and set up 2-step verification security to your account.
Are you Wix Official?
No, I am not a Wix official. I am a freelancer working as a Wix expert to help clients to build their websites using Wix Builder. But I am a Wix partner which means, From the Wix marketplace, Wix, recommends matching clients to me and other Wix partners if the client needs any help regarding their Wix website.
Can Wix design my website?
Wix Builder and Wix Editor X are the online software and tools to build your website. You can easily create a website yourself, But if you need help then you can hire WIX partners.
How to Find WIX website design company
There are many Wix partners you can hire, If you need WIX experts, You can request a quote from us. We are one of the WIX partners too.
I want to see WIX website builder examples
You can go to the WIX template page to view different templates that are created and ready to use by WIX users, You can also see partner profiles to see their portfolios and sample of WIX-designed websites.
How to Find My Website on WIX?
Once you log in to your Wix account, You can see my sites tab in your dashboard. Here you can find your WIX websites. You can able to create multiple WIX websites from a single dashboard.
How much does Wix cost to build a website?
Check WIX Plans and Pricing to know about costs for your website subscriptions. There are multiple plans of WIX, You can choose the best as per your need.
How to create a Wix blog?
Creating a WIX blog is as simple as creating a WIX website. Add a blog app and you can add your post, title images, and video. Once you add content to the blog, Save and publish.
What is Editor X?
Editor X is a WIX product that creates advanced responsive websites with outstanding effects animations and layout.
WIX Owner App
The Wix owner app is a great app that helps to manage and operate your WIX website from the mobile.
Some of the features of the WIX Owner App are as follows:
WIX owner apps Manage your website from mobile.
WIX owner app helps you to live chat with your visitors.
From WIX owner apps, You can Track business analytics.
WIX owner apps are useful for growing your online store and sales.
You can write blog content and share it on social media from WIX owner apps.
Accept booking and payments online.
From WIX owner apps, You can manage your community easily.
Wix Owner Apps also helps to create mobile apps.
Web Designer's Final Thought
I started designing a website in Wix from their Flash version. Now things have changed in the website revolution. Many modern themes and templates came into the market and website processes are more modernized today.
Wix has upgraded their Editor, They added a lot of applications and gave space to add third-party applications to programmers and other companies to extend features to Wix users.
Similarly, Wix has Editor X where users can design a responsive website. and they have Velo which is a full-stack developer platform.
Wix cares for agencies and freelancers and has a Wix Marketplace platform, Where They pick Wix designer freelancers and list their profiles, and clients contact them for their web design help.
Wix marketplace matches freelancer profiles with clients. This means new clients are getting help from freelancers or agencies and freelancers are getting leads and clients.
What they called is Wix Partner Program and I am one of their partners too.
To be honest, For new businesses and individuals, Wix is a better platform to get hosting, editor, theme, many apps, free images, email, and all essential services and products.
From a single account, the Wix user can manage all the tools and add multiple websites. But in fact, In the beginning, Wix seems a higher price than WordPress but if you start adding many plugins and other tools in WordPress to extend WordPress website features, the Pricing will be higher than Wix.
If you need help from me to design your Wix website, Feel free to contact me. And if you have any questions or suggestions, please comment below.
Read More Articles From Our Blog