Facebook marketplace and Facebook paid ads are very popular for generating sales and leads for the business. Users can able to promote different brands and businesses such as electronic materials, hotels and restaurants, local shops, celebrities, writers, musicians, and many more.
Being a social networking site, marketing the brand on Facebook not only generates high sales but also boosts brand recognition. For any business, it is very crucial to select the right means to influence the consumers for the expansion of the business in this world of competition and rivalry.
And no doubt Facebook is the medium or a tool on the internet that assists you in achieving your targets and goals. You can get success by reaching potential customers and attracting them to your product on Facebook because it is the only site that is used by almost every generation of people from every background.
How Much are Facebook ads Cost
There is a different kinds of Facebook ads, such as increasing website or landing page visits, Growing conversations, and messages to the page. Increasing likes and growing visibility of page posts.
Facebook automatic ads help to run advertisement campaigns for the new user as well as you can set ads manually by targeting different locations, age groups, and behaviors of people.
Facebook has a huge audience where some portion may be interested to associate with your products but it is not always the case.
Many people use Facebook for several purposes so the promotional materials you are displaying should be developed in such a way that does not make the viewer uncomfortable.
The advertisements developed by using valid information and sufficient arrangements can give you the best outcomes boosting sales and brand loyalty.
Nowadays, video advertisements are given prime concern in the news feed of Facebook which improves the sales of the business.
The advertisement cost of Facebook depends on what kind of industries you have and the country you choose to target your ads.
The Best Way of Optimizing the Facebook Budget
I have run many Facebook ads for me and for my clients, In my experience, The best way of optimizing Facebook ads budget are:
Run broad ads targeting a country not a city to get more audiences.
Try running 3 or 4 different selections of age, country, and Behaviors.
Let ads run for a few days and you will see the different costs for different campaigns.
Pause the high-performing ad campaigns with a lower budget.
Due to the presentation of the functionalities of the product, the working process, and the benefits of video ads, they have proven much more appealing and interesting in comparison to other types of ads.
Also, you can advertise several products in one advertisement on Facebook which not only gives cost benefits but also provides several options to the audiences.
Facebook can also act as a platform to connect you with your old customers who used to visit your site in the past and make them remember your product and service.
While creating ads, the ads creator should make sure that the ad is creative and informative enough for the attention of the audiences and lead generation.
You can include relevant and attractive images of high resolution to attract the audience and transmit the main message you want to transfer through your ad.
How to Get Rid of Ads on Facebook – Stop Seeing Ads on Facebook
If you are looking for how to get rid of Facebook ads, Then there are many ad blocker software and Chrome extension to stop ads. Some of them are:
GetadBlock is a tool that blocks banner ads and other popup ads from your browser.
How to Post Anonymously on Facebook Group
Follow the steps to post anonymously on a Facebook group:
Go and click the menu in the top right.
Now click "prompt" to create your post on a group.
Write you, and click submit Submit.
How to Make Friends List Private on Facebook
Privacy is very important, If you are looking for how to make your friends list private on Facebook, Follow these simple steps: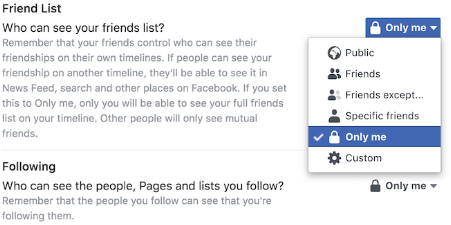 Login to your Facebook account with your credentials
Click in the top right of Facebook.
Go to / Click Settings.
Now Scroll down and go to Privacy and click Privacy Settings.
Click "Who can see your friends list?"
Select the audience of people (such as Friends) you'd like to have access to your friend list.
Conclusions for Facebook Marketing
To summarize everything, Facebook is a great tool to advertise the products and services that can flourish your business when every step in the marketing strategies is taken after careful consideration.
At present, it is the largest and most popular social media platform and if you choose Facebook for the marketing of your product then you are able to advertise with a minimum cost that can give you maximum return.
Facebook advertising can be an intelligent choice that can promote your products digitally, increase brand awareness, allure visitors and transform them into regular customers increasing the profit of the business.