Yet Another Mail Merge (YAMM) is a Mail merge service for Gmail. Yet Another Mail Merge helps to send mass emails from Gmail and track real-time results from Google Sheets.
Yet Another Mail Merge helps to increase engagement and grow business quickly. Sending mass emails helps to reduce the cost of marketers.
Features of – Yet Another Mail Merge
YAMM software can be integrated with Gmail and google Sheets easily. Besides, there are more features of Yet Another Mail Merge:
Users can Personalise Email Very Easily by customizing subject lines, the Body of the email, Links, attachments,s and more which helps the user to save time and not have to write again and again.
The user of YAMM can able to track email opens, clicks, unsubscribed emails, and bounces of emails from google Sheets easily.
Yet Another Mail Merge tool helps users to schedule a mail datewise, weeks, or by choosing any day and time.
Users can able to Set up email notifications and can able to add unsubscribe links to emails Which is most important
Pricing of YAMM – Yet Another Mail Merge
YAMM has 3 different plans and pricing: Individual, Team, and Unlimited
1. YAMM Individual Plan
An individual plan of YAMM has 3 plans (Free, personal, and professional). In a free individual plan, you can send up to 50 emails per day which cost $0. A personal YAMM plan cost $25/year and you can send up to 400 emails. Similarly in the Professional plan, you can send emails up to 1500 per day. The pricing of the professional plan is $50/year.
2. YAMM Team Plan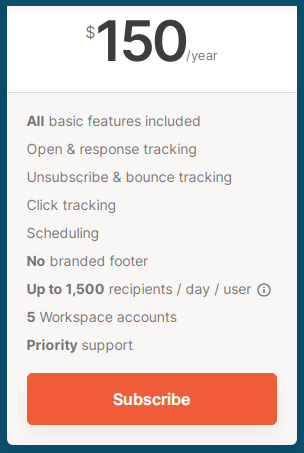 YAMM Team Plan has more features than the individual plan. This is best for teams to work up to 5 workspace accounts. The team plan will not have branded logo on the footer. The cost of the YAMM Team Plan is $150 per year.
3. YAMM Unlimited Plan
If you have a large business and need more than 100 users, You can contact Yamm to upgrade to an unlimited plan.