Estimated reading time: 5 minutes
WordPress plugins are powerful and easy software containing a collection of functions that are uploaded to enlarge the existing capabilities or add more functions to the WordPress site.
Anyone can add the features to their WordPress website easily without having the knowledge and skill of advanced code.
WordPress plugins make websites more smooth and more powerful, as well as a website owner, will save a lot of costs because most of the plugins are not very expensive.
If you are using WordPress CMS, You do not have to hire professionals to start with plugins.
Plugins have fascinated website developers entrepreneurs and organizations.
Developers can develop their own plugins and sell them to make extra revenue. I myself have used many plugins to make the content of my blog user-friendly.
WordPress plugins are very excellent to manage a WordPress website.
Some of the benefits of WordPress plugins are described below.
Benefits of Using WordPress Plugins?
Website additional features, User-friendly and Speed optimizations are a few benefits of WordPress plugins.
More advantages of WordPress plugins are mentioned below:
1. Serves Every Requirement
For WordPress, there are numerous plugins that fulfill every need of the website. With the WordPress plugin, anyone can make their website or blog more user-friendly and attractive.
Optimization of the contents for a search engine can be done with plugins. The best example is Yoast.
Moreover, it includes live chat so that the customers can get solutions for their questions in real time or offline.
The website, as well as plugins, requires regular backup so that all WordPress plugins work properly.
WordPress e-commerce plugin like "Woo-Commerce" offers safe and secure online shopping on your website.
2. Adds Features When Needed
As business requirements will change over the change in the environment and need to be up to date with changing times.
To add the functions to your website first you have to choose an appropriate plugin that will provide you with all the functionality.
With the right plugin, you don't have to hire a developer or a professional to add the features and functions to your website whenever required.
To make significant changes to your websites such as adding email marketing or a membership area you can easily do with WordPress plugin at a lower price.
There are also powerful plugins that can change your website scrolling, navigation, Progress bar, and even support on all kinds of devices like mobile and tablets.
3. Low-Cost Options
The option to choose and install the WordPress plugin is cheap in cost because to update and expand the functionality of the website you do not have to hire and pay a web professional and the cost that is paid to a good developer is not cheap.
Many plugins are found in the WordPress plugins library too, Which are beneficial for new bloggers.
Though free plugins are for the initial requirement with the change of the time and expansion of your business. You can upgrade it to the premium version and also the premium version of the plugin does not cost much.
4. Time Consuming
Due to their ready-to-user features installation of any plugins does not need more time. You can install WordPress plugins with a few clicks.
Once you install plugins like page builder, They will save you extra time managing content on the site with their drag-and-drop features. Some plugins are more awesome and quick than you think.
5. Easy, Fast, and Convenient to Add
WordPress plugins are registered in the database after adding to your website and then you can choose to activate or deactivate that plugin from the admin panel.
It is very easy to find and add plugins to your WordPress site.
While choosing the plugin you have to keep in mind the requirements and goals of your business and once you have found the correct plugin for your business then you have to install them.
It can be installed and downloaded in the background and after the plugins are downloaded you can activate them and utilize them to the best.
Overall, in just a few minutes without having the knowledge of the coding, you can add almost any functionality to your website.
How to Install WordPress Plugins?
Here is the simple step-by-step guide to installing WP (WordPress) Plugins:
1. Go to WordPress Dashboard
Go to WordPress dashboard and under plugins, click "Add new plugins" as shown in the image below.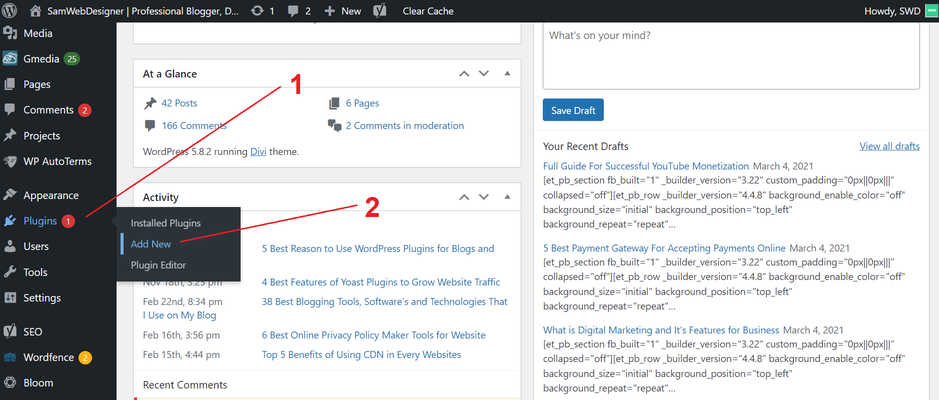 2. Add to WordPress
Now, You have two options, Either choose from the "WordPress library" by typing the plugin's name or if you have downloaded plugins, upload files as shown in the image below.
3. Activate Plugins
WordPress plugins are now installed on your website, Now to make it work click "Activate" if plugins are active, Similarly to make it disable, Click "Deactivate" as shown in the image below.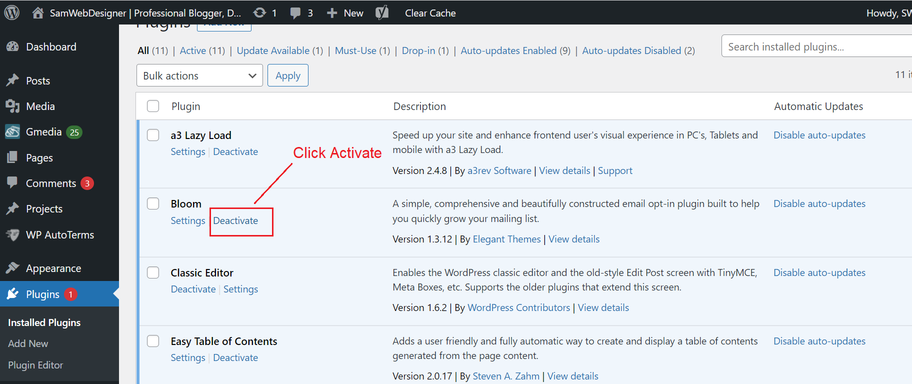 More Articles From the Blog