Website SEO Company provides support and helps to rank your website on google and other search engines like Bing. SEO is a technique for optimizing any website in google ranking. These are a lot of methods of free marketing. If we compare google ads with organic SEO traffic, It is much more expensive and all organizations cannot afford it.
SEO is also one of the good methods of growing in the long term. These days there are lots of website SEO companies offering SEO services. And depending on their expertise and work it depends on how good a website will rank in search engines.
Once proper SEO is done, You can check your website position on google using tools like Semrush, Ubersuggest, Ahrefs, and more. Website SEO Evaluation can be also done by these tools or you can hire companies to do so.
Types of SEO (Search Engine Optimization)
SEO is basically three Types. Technical SEO, On-Page SEO, and Off-Page SEO
1. Technical SEO
Technical SEO is the process of optimizing website speed, website mobile Friendliness, website layout, SSL, and much more. It looks user Experience and smoothness of the website too. We can consider technical SEO as one of the factors of SEO.
2. On-Page SEO
SEO that is done inside the website is on-page SEO. This is a good way of optimizing contents and alignment of Heading (H1, H2, H3, etc). On-page SEO also contains the quality of articles, backlinks, and original content. Also, some related keywords must be included in On-Page SEO.
3. Off-Page SEO
Off-page SEO is any score that is outside of your website. This means counting and authority of backlinks given by other websites to you. Off-page SEO includes Guest posts, Organic Backlinks that other people are giving to your website as a resource, and more.
Find the Best Website SEO Company
There are lots of companies that are providing SEO services. And there are a lot of ways to hire freelancers for SEO Services. Some of the ways of finding website SEO companies and freelancers are as follows:
1. SEO Freelancers from Fiverr
Fiverr is a freelancing platform to hire freelancers and SEO experts very easily and quickly. There are a lot of freelancers providing SEO services, digital marketing services, and other services depending on their skills.
You can simply go to the Fiverr website and search for the best freelancer and can start hiring them or contact them for your services.
2. Website SEO company in Google Map
Google map is another best way to search website SEO companies. For example, if you search for "website designing services" you will see a lot of companies that are providing website designing services near to your locations.
If you search for "e-commerce website design services" then you will get a list of eCommerce website design services offering companies near you as well as you can check their ratings and contact details from google Maps.
Let's See to find Colorado springs website design services from Google Maps.
Eg: Search Colorado Springs Website Design, In Google Map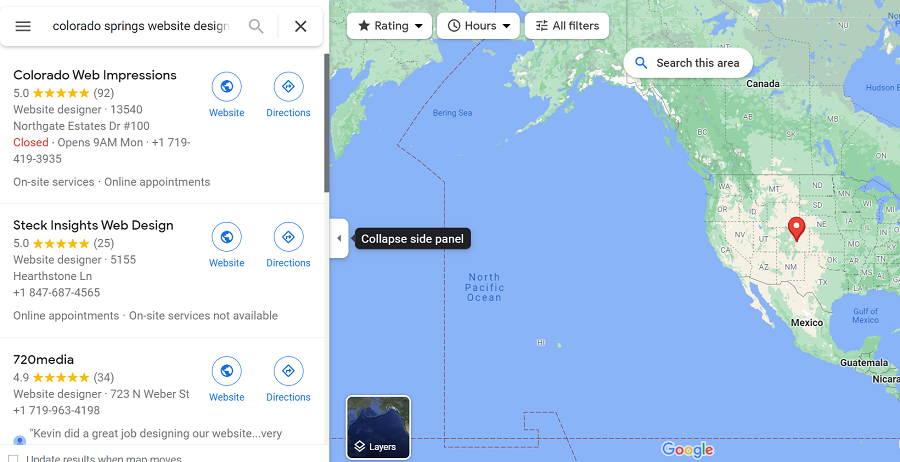 Once you open Google Maps and search for Colorado springs website design, Then it will suggest website designing services companies that are offering services from Colorado springs.
These companies offer eCommerce website design services, website hosting services, digital marketing services, and more. Click on their website or contact them to start working.
Hire Sam as Web Designer
Sam web designer provides different services like hosting a website for free, e-commerce website design services, website designing services, and a free website rank tracker.
Free website rank tracker services if you request a quote. We will guide you and give training about how you can check your website position on google, how to do website SEO evaluation, how to update the website yourself, and more.
How to Host a Website For Free?
Wix is a website designing cloud-based platform that gives you to host your free account. When you log in to Wix, It will give users the to create and host a website for free before paying.
Is E-commerce Website design services, Cost High?
No, e-commerce website design services depend on region and companies, and freelancers. As I mentioned above, If you are hiring freelancers from Fiverr then service costs are different depending on the freelancer and the company's terms.

How to Do website SEO evaluation For Free?
There are a lot of SEO tools that help track keywords and see competitor rankings. You can read more here.