This post may contain affiliate links, If you use any links to buy a product, services, or something I may earn a commission. CLICK HERE to read more.
The featured image above is designed using canva.
Responsive web design is not so harder then you think. Responsive website design scales and aligns it's content and elements to match all kinds of browsers and screen sizes including mobile website design.
There was a day where programmer used to struggle hundreds of hours to create a responsive and mobile friendly website. But in these modern days, There are a lots of software and web builder platforms to create any kind of website in a simple clicks. But also, we should consider some of the things like Security, Cost and Popularity of web designing tools before choosing a right website platform.
I personally designed my blog "Samwebdesigner" with "WordPress" the powerful web designing software with mobile responsive website feature. Because the themes build for wordpress are responsive layout and have a good speed. In this guide, you will learn responsive web design tutorial step by step on how to create responsive webdsin using wordpress, how to install and setup themes and different plugins.
1. Purchasing a Right Domain Name
You already learned responsive web design meaning. But, a domain is the identity of the website. And in the simplest terms, the domain name is just the address to your website and think of the internet as a vast map full of avenues and streets in turns everywhere and think of your website as your house for anyone to find their way to your house even you will need too.
Every website has an IP address. IP is just a seemingly random string of numbers but it will be difficult simply to use an IP address to find your website address and contents inside the website.
For example, It is easier to find"www.yourdomain.com" instead of IP that say 55.124.349. and a domain name is a simple word that helps to memorize people to access inside your website.
There are few things to be considered before purchasing a domain name for responsive website design:
Register a domain name that matches your brands and easy to remember by anyone. Also, make sure it will be better to use short words as best as possible.

Check if you are using others brand names or not. I highly recommend not to use other brand names. For example, you cannot purchase a domain that contains "apple" word because it is a brand name of apple company.

Use extension with .com or .net if possible.
Ways to purchase a domain name. Follow these steps:
a) Go to Namecheap and search a domain that you need.
Type the domain name from namecheap dashboard that you are looking for. And you will see all available domains with any extension. And choose the one that is available for purchasing.
b) Select available domain that fits you.
You will see all the available domains from the namecheap new window.
Checkout display will appear and you will see the option to pick up domain for how many year, Premium DNS and Whois Guard.
Whois Guard is free for every customer when they purchase domain from namecheap. If you have promo-code, Input to receive a discount.
Congratulations now you own a domain.
2. Purchase a Hosting For Your Responsive Web Design
Hosting is the home of your website. There are different kinds of hosting like: Shared hosting, reseller hosting virtual private service (VPS), and dedicated service.
Hosting is the computer and network infrastructure that keeps your website available across the internet. And it also provides key services like email for you.
You need to choose the best and secure hosting for your website for a different reasons like security, migration, speed of a website, backup, etc.
Here, I am referring to the best hosting that I use personally and especially for my WordPress website that is easywp.
Follow the steps and instructions below:
Choose Managed wordpress hosting from namecheap
From your namecheap.com dashboard and click wordpress tab. And you will see managed wordpress hosting option and simply click It.
"Managed wordpres hosting" is especially for wordpress website and responsive web design template.
You will  see three different plans of easywp. (ie: EasyWP Starter, EasyWP Turbo, EasyWP Supersonic) choose any plans that fits your need. Purchasing yearly plan for anyone helps to save the budget because you will receive discount.
In my mobile responsive website, I used yearly plan of "EasyWp supersonic" As I will be having a lots of contents and my website need more speed for my responsive design.
3. Install WordPress to Make Responsive Web Design
Wow, You setup your domain and hosting. Now its time to access your WordPress and work on it. Follow the following steps:
Login to your Namecheap account dashboard
Now, Login your namecheap with same username and password you used for registering. 

And go to apps section on left side bar of your dashboard. You will see "Apps" click it and there is "Easywp" added to the apps. Clicking this will redirect you to your hosting dashboard.
And now, check right side of hosting dashboard, There is a small wordpress icon with "Admin" Button. Click it and it will redirect to your wordpress dashboard.
Image above is the main looks of your website dashboard (WordPress dashboard) from where you can install theme, plugins, and work on different website settings.
4. Choosing Right Theme and Plugins For Responsive and Mobile Website Design
For responsive web design techniques, A theme is most important and should be compatible with mobile website design. Theme is a main looks of any website.
The things like how your content display, Scrolling effects of site and colors and layout depends on what kind of theme you have used.
And plugins helps to give extra benefits of website and increase features that are not fulfilled by theme.
Here are few things to be considered before selecting or purchasing a WordPress theme and making proper mobile website design:
Select responsive and popular theme that includes mobile responsive website theme as best as possible. 
Check cost and license of themes.
Test any theme before you purchase. From demo view.
Check responsive web design theme If that provide extra features like page builders and plugins or not.
Make sure to check Responsive design theme are up to date or not.
Similarly, Here are few things I recommend before choosing a right plugins:
Select plugins that has good review at least 4.5 our of 5. And check how many users installed to know it's popularity.
Always see plugin developer profile. 
Check if plugin are compatible for your responsive web design theme or not.
Always update the latest version of plugins.
There are many good WordPress themes But, In my blog, I personally use the most popular and my favorite responsive web design theme, that is DIVI by elegantthemes.
Divi theme provides mobile responsive website and responsive design features with a good support and powerful free plugins which are best for making social friendly and responsive design on WP-site.
Follow the steps below on how to install themes and plugins below:
Go to Elegantthemes official website and Click "Join to Download"
You will see two different pricing yearly and lifetime plans. Choose one that fits your need. and click "Signup Today"
Fill up the form and input necessary information to purchase a responsive webdsin Divi theme.
Once you purchase, go to "My account" and enter your username and password to login and now you can access to elegant theme dashboard. Now you are ready to download the theme and plugins that can be used for your own mobile responsive website that is WordPress.
5. Install Your Responsive Design Divi Theme and Plugins
Follow the steps below to install your mobile responsive website themes and plugins properly in your WordPress website.
Open your WordPress dashboard for theme and plugin installation
Click appearance>themes. You will see theme upload option. Click upload and select your divi theme that you downloaded form your computer. and click install. Now theme will take few minute to be installed. And click activate.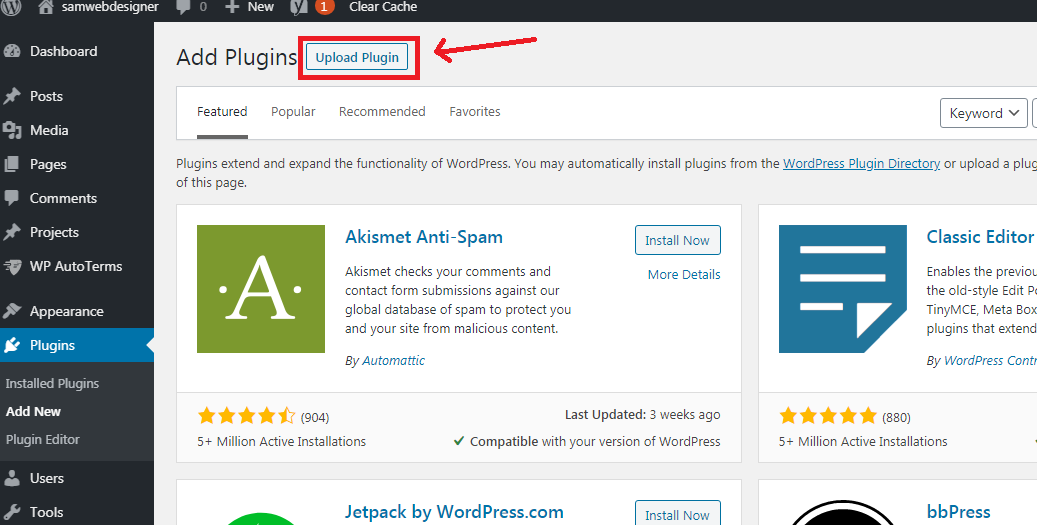 Similarly download bloom and monarch plugins from Divi dashboard and go to Plugins>Add new> upload. And upload plugin from your computer that you downloaded. and click activate plugin again.
6. Create Page and Menu for Mobile Responsive WordPress Website
a) Creating a Page on WordPress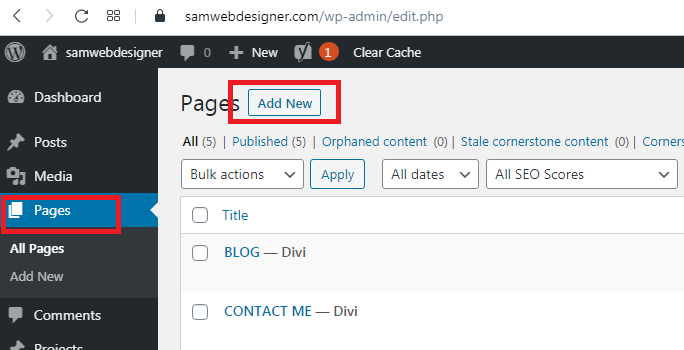 In the right side of wordpress dashboard, There is a page tab. Click and go to >Add new>give name of your page. and click update.
Make sure not to publish page until it is setup or designed properly. And always save in draft and once you finish page design you can publish.
Similarly, you can add as many page you need depending on your need and requirement.
b) Creating website menu on WordPress
There is appearance on right side of WordPress dashboard. click appearance>Menu.
You can see there is an option to give menu name. Either you can add header or footer menu. for header menu>Write menu name and save.
It's time to pull pages in to menu. Click and check mark to add page name from the right side as shown on above image and click add to menu.
Do for all pages similar way. And save the menu again.
7. Customizing Responsive Design Divi Theme
As you can see in above image, When you open your website there is "Theme customizer" tab under your site name. Click it and you will see many options to customize your theme upon your need.
First thing you need to do is, Displaying pages on site header as menu.
For that go to >home page setting>and choose static page option under "Your Home page Display" and choose home page name on home page option. And click publish to save the changes.
Allowing this option will display menu on header of your website and you can able to setup home page of your site.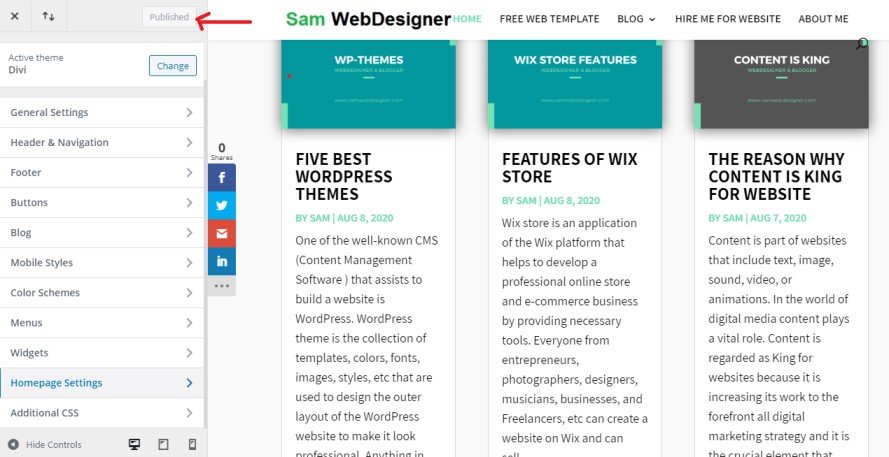 As shown on screenshot above, You can able to change all theme setting and customize as per your need. But make sure to hit "publish" button to save the changes.
Under General Setting, You can able to update site idendity that is website name, site icon and tagline, layout, tropography and Background.
Header and navigation allow to customize primary header, secondary header, fixed navigation setting and more.
 From footer section, change layout, add footer widgets, add credits to your website and setup all things related to footer layout.
 Customize website buttons from button setting and change blog colors and layout from blog setting.
Similarly, you can play with all the setting by previewing in right side.
8. Theme and Plugin Setting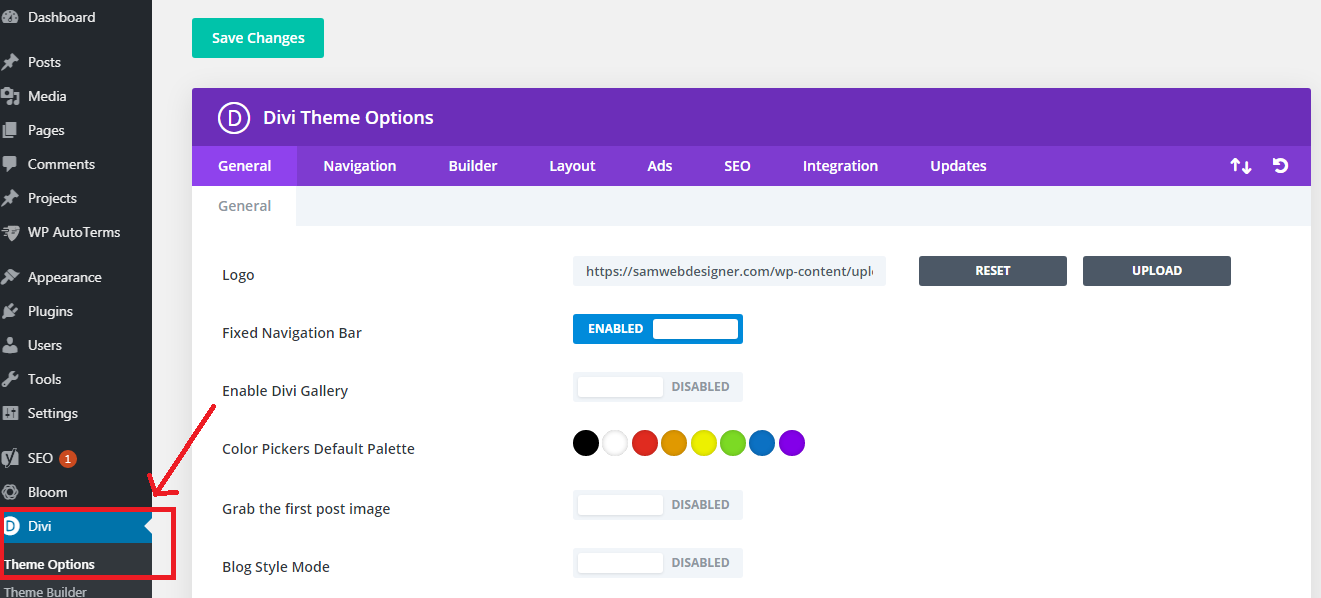 Once you install responsive design Divi Theme, You will see It appears in your wordpress dashboard. Simply click divi and Themes options. From here you can change and setup all settings that you needed.
From General Section: Change logo, Fixed navigation bar turn on or off, Color palette, Blog style mode, Social media links so on.
From navigations tab: It allow to re-arrange blog categories and pages to your website.
From builder setting: You can turn on where you need to use Divi builder either on page or post. "Divi builder" is a Divi plugin which helps to build website page and blog post easily. As per recent updates, Divi builder plugins came with theme it means no need to install builder plugin as before.
And also check "Bloom" and "Monarch" plugins setting options to change the plugin setting as per your need.
9. Building Page With Divi Builder Plugin
So, It's time to design your first page. open your website. There is "Enable visual builder" tab with pink background. Click it.
Now, Divi builder will activate on page. You can add different modules and setup section to build your page.
Or, Simply click plus (+) sign with purple background that is located below the page.
It help to select Pre-build layout (Ready-made template) by Divi. But before using this, you need to connect API key that is provided by Divi. You can find your API key inside the Divi dashboard.
Importing Pre-made layout helps to save lots of time and budget. And there are different categories of Pre-made design. Use it and play to design your pages quickly. 
10. More Tips to Improve Your Responsive Web Design 
Once you complete building mobile responsive website, Make sure to test it on mobile and tablet view.
Again, Here are few additional features you can add to make better website.
Add CDN to website so you will see speed improvement to your website. And this can also handle lots of traffic coming on your website. Simply contact Namecheap support via live chat to add CDN.
Easy-WP hosting gives backup features for mobile responsive website. Always create backup time to time.
Add SSL to responsive website design for providing safety connection to visitors.
Use Yoast plugin to setup and improve SEO (Search engine optimization) for website. This helps to rank your website in search engines like Google and Bing.
So, again add more plugins that are available from wordpress dashboard to improve functionality and improve better layout of your responsive web design. But, I do not recommend adding lots of plugins.
Pros and Cons for Responsive Webdsin
Pros:
Divi theme will save a lot of time designing your website. Due to its flexibility and easy to use page builder and it is mobile responsive website theme.
You can able to save cost by designing website yourself and can update yourself in future.
WordPress is used by millions of users and it has high popularity due to its powerful content management system and mobile website design layout.
Website build using Divi theme in wordpress itself is responsive design and have good speed.
Cons:  

Your website may looks similar to others due to maximum people use same theme and pre-made layout to design their website so it might be worthless for some users.
Due to higher uses of wordpress there are lots of bad people (Hackers). They may try to attack your website if security is not setup properly.
Divi theme may be expensive for you because it is premium theme comparing to other free theme.
You may feel difficulty to customize CSS code lack of programming knowledge.
FAQ on Mobile Responsive Website
1. There are lots of theme and ways to build website. Why you recommended WordPress with Divi?
The article and guide you are reading on this blog is build with wordpress and divi theme. And I personally use these products to design my website mostly. And also, you can see responsive website examples build in divi by searching google for the inspiration.
2. I have still questions regarding Divi theme how to learn more.
Visit official Divi youtube channel and Divi community forum to ask question. And feel free to read my full guide from begining regarding responsive web design defination, responsive web design techniques and responsive web design meaning.
3. I love your guide but I have no time to build website. Can you help?
Feel free to submit your requirements from "Quote" section on my website. I will try to get back as soon as possible.
4. I want to hire local professional for my website. How to do?
Sure, You can visit most popular freelancing platforms to find web designer from your local area. Try searching web designer in upwork, Freelancer and Guru.
Conclusion on Responsive Mobile Website Design
Website always represent your business profile. Because, these days along with technology changes there are different devices and browsers.
Your visitors may come from any devices. And it is always important to create responsive website to display all the contents of any website properly.
Along with content it is important to know "how properly you setup your website" and It is important to know either website is mobile responsive website or not.
It is always important to make eye-catching design to attract visitors.
Resources and Read Tips on Responsive Design