Estimated reading time: 15 minutes
How to Start a Blog? This is one of the popular questions that many bloggers are asking me and when I was on my blogging journey it was mine too. "Blogging" is a kind of online work where anyone can share their ideas, information, and knowledge related to niche topics or anything that they are experts in. When I was a bachelor student I started freelancing for the first time and first time heard blogging related interview and news of students and blogging the boys and freelancers.
There are many examples of blogs that are related to health and fitness, Education, Information Technology, Politics, Lifestyles, Travel, and More. You can choose any of these what you are an expert in or what is your passion.
Blogging can be a passive income source for the long term if you actively working and share more value with your readers by writing good articles.
There are many reasons to make a blog more popular and Some are mentioned below:
1. Due to rapid growth in internet traffic, more opportunities to get more visitors and sales worldwide.
2. Blogging can be targeted internationally (all countries). Which is super powerful to communicate and grow your knowledge broadly.
3. Multiple income sources like you can show ads, sell your own products, promote affiliated products in a single blog.
4. Low investment business and all you need is time to invest and knowledge to share.
When I first started blogging there were lots of questions in my mind. Like what is affiliated marketing, Domain, hosting, how to choose the best theme, and a lot.
I will try to cover some major topics which can help you to start your first blog.
Top 10 Powerful Tips to Start Your Blogging
There is a saying "Sharing is learning and learning is earning."
I personally used to ask many questions to other bloggers related to different blogging and marketing-related terms.
Now it's time to share my ideas with my readers too.
Let's say you are an expert in social media marketing and writing a blog related to different social media platforms like Facebook, Twitter, Instagram about how to grow social media channels, run paid marketing campaigns, etc.
At first, there are three things you need to focus on:
1. Write blog articles and topics that have been searched by a lot of people and those articles covered by only a few bloggers.
Technically, it means Target high search volume traffic with low competition.
2. Share more value to people through your articles so your blog encourages them to bookmark/save your blog and come again and again in the future. This helps to grow recurring visitors and subscribers.
This can be done by sharing real and successful stories/results that you got from social media marketing and valuable content will encourage your readers too.
3. Try to review products deeply by testing them if possible. This helps in growth to affiliated revenue.
These three types of content help bloggers to grow quickly.
I love to share more tips on how to start your blogging journey below.
1. Choose a Schedule and Make a Proper Plan
First, all you need to make is a plan, and a mind set up to start anything.
You may be a student, job holder, business person, or doing nothing. All you need to do is to make a plan and schedule a proper time for your blog business.
Maintaining a blog and writing a blog regularly results in quick growth in traffic.
Also, It depends on how much time you are giving daily and what kind of marketing strategies you are implementing on your blog.
It is always harder to start if you have already a part-time business.
Stressed, time and money are some more reasons that came between your blogging career as a concrete wall.
But still, lots of people are successfully blogging part-time and converting it as their full-time business later and making passive income source. This means you can do as well.
Try to read motivational topics, Watch movies, play around, learn to write articles, and do any entertaining things that help to boost your mind before starting a blog.
Don't wait and start scheduling a daily routine and make a proper mindset for the topics that you are passionate about and start writing articles.
2. Ask Yourself, What You Are an Expert In
Ask yourself "What is your experience, passion, or what is your expertise?"
It is human nature. Anyone's experience in a particular area will have more knowledge compared to a niche people.
If you are experienced in any particular field. You can able to write a better article related to those topics.
"Try to choose your blog on your expertise areas"
Before writing an article and creating a website. First, ask yourself what is your passion, do some market research, and research how often people are searching for related topics via google trends.
Think about going long-term without a result first.
Some bloggers failed due to higher expectations and dreaming of earning quickly by blogging.
But it is not very quick and easy to get traffic. More content in your blog helps to grow more traffic and more content needs more time even months or a year.
There is a saying "Content is a king for any website or blog and search engines loves a content"
It is real you need some knowledge of SEO (search engine optimization) to align and format content with search engine friendly.
But try to provide as much value from your articles. This obviously helps to increase readers and more shares later.
As I am a freelance web designer and what do I do at starting?
"I share with people about how to create a responsive website, Share different website design tools, tips and tricks, and topics related to how to start freelancing."
Because I have the experience to guide people about these topics. This kind of content is easy for me.
Similarly, you can choose a niche related to your passion and experience to start your blogging journey.
When I say about high traffic with low competition article:
For example: When I search the keyword "YouTube to Mp4" this has high search results and the competition was low and I thought sharing youtube to mp4 convertor tools is worth it for my readers as well.
Generally, this is not too hard to convert to Mp4 but still is good for the traffic.
But please note: Keyword competition will change from time to time.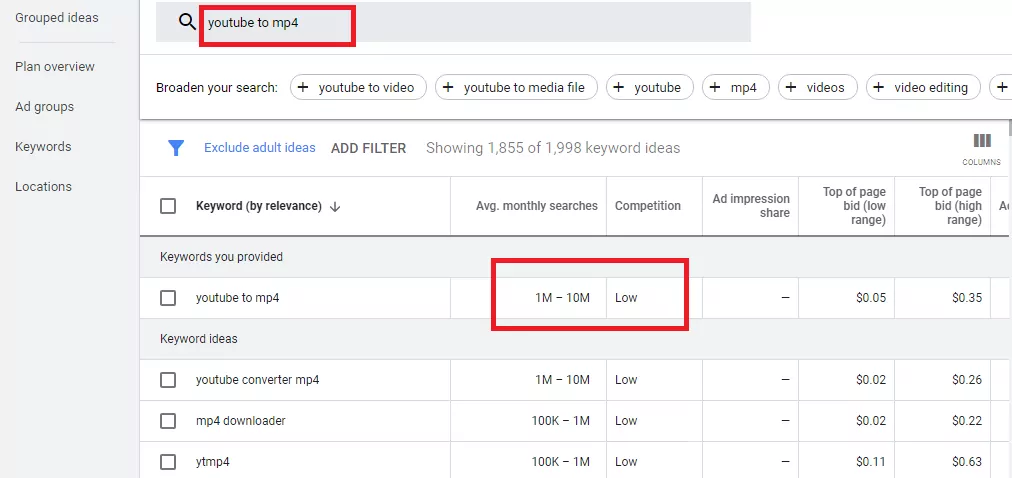 3. Setup Foundation of Your Blog
Now it's time to create the home for your blog business.
Website is the home of every blogger where visitors come, watch, stay, or go from your blog.
First, you should choose the best hosting and domain name which is the brand and identity for your blog.
There are also many factors to consider before designing a website like speed, security, themes, plugins, domain, hosting, graphics, and more.
Also, there are many platforms like WordPress, Google Blogger, Wix, Squarespace to design blogs and websites. But It all depends on your requirement.
I personally use the WordPress platform with a Divi theme to design my website. WordPress is very popular for bloggers and there you can find easy themes and plugins which helps a lot without having technical and programming skills.
For more, You can follow my guide to design your responsive website yourself.
Or you can also hire a web designer or start your blog with free templates.
And, For generating the graphics, you can choose software like "Photoshop" or can use online "Canva" tools. And there are many free stock photos you can find on websites like Pixabay.
4. Create Beautiful Articles and Graphics
There are different ways to create articles for the blog.
Some are reviews of products and tools, Personal Experience in your expertise area, How to guide for tutorials, and a lot.
Generally, if you are a good writer, You can create yourself to save the budget or simply hire outsourcing for article writing.
Article writing needs a lot of time and effort and here are a few tips that may help you in creating articles.
Hire a freelance article writer if you have limited time and try to check articles through a plagiarism software like Quetext.
Never simply copy and paste other's articles on your blog.
Try to avoid duplicating the same article within your blog pages. Copyscape will help to identify duplicate content.
Never publish your blog until the article is ready to be published so google will not index incomplete articles. Try to save it in the draft first and publish once it is final for your readers.
Properly structure the article in all heading tags H1, H2, H3 to H6 if possible.
Use focus keywords and related keywords properly and limitedly.
Give value and education to readers through your article which increases more shares and visitors for the long term.
Also, Check my guide where I explained more about how to write an article and why it is important.
Similarly, Graphics helps to give visual representation and attraction to your blog. These can be info-graphics or simply images.
Try to use original graphics or give credit source to graphics owner if it is from a different source.
Similarly, You can simply try tools like a Canva to generate graphics quickly with their hundreds of free templates.
5. Choose the Right Blogging Tools and Products
Choosing the right tools is not easier. It needs testing and lots of time. I personally used many free and paid online tools.
Here is a list of some free tools that I love.
1. Grammarly: Best Grammar Checker tools For identifying spelling errors and improving your sentence, and more.
2. Screencast O Matic: Easy and faster screen recorder and powerful video editing tools.
3. Palagrism checker tools: Here are my three favorite plagiarism checker tools. plagiarisma.net, duplichecker, and searchenginereports. These help to identify and check duplicate contents.
4. Websiteseochecker: This tool helps to check SEO including technical, On-page, and Off-page SEO. And give the SEO reports and suggestions too.
5. Wordcounter: This is an online tool to count the total words and characters of your article.
6. Speech to text for transforming the voice into text. Useful for those who want to convert interview, or meeting text as an article.
7. Converting youtube videos to mp3 freely and quickly.
8. Reduce your blog image size to smaller without losing quality.
9. Quickly remove image background with simple few clicks without image editing skills.
10. Make affiliated links and other long URLs shorter.
11. Capture any website as an image file from a webpage to an image file 
12. Find similar images on the internet. This is useful while you are designing a brand new logo and to make sure whether it is unique or not.
13. Email verification tools to check if an email address is valid or not.
14. Get content question ideas while creating FAQ pages or FAQ-related articles.
15. Create embed code for your blog or website. To get more back-links while sharing your images.
16. Check the responsiveness of your website and test it from many devices online.
6. Learn SEO (Search Engine Optimization)
When you start writing articles and complete blog setup. Verifying your blog in search engines and SEO task is the major work that blogger need to take care of.
Your content should be SEO friendly and at least you should have knowledge of basic SEO.
It improves blog visibility in search engines like Google and Bing. There are three types of SEO "Technical", "On-Page", and "Off-Page" SEO.
Technical SEO is based on your website performance, speed, SSL and security, CDN, mobile responsiveness, and more technical part related to your website.
Whereas On-page SEO is inside a website and blog content. Such as article title, heading tags, content quality, keyword length, related keywords, duplicate contents, alt-text, etc.
Similarly, Off-page SEO is outside of your websites like backlinks, your website reputation, and popularity.
Overall, bloggers should know how to optimize their blogs properly in SEO.
Without proper SEO there is less chance to get more visitors even you write plenty of content with lots of effort.
You can also find various tools and software for SEO audit and they will help to find proper keywords and guide you to make a good performance of the blog.
7. Research Few Successful Bloggers
There are lots of bloggers sharing their traffic, online income reports, and success stories. I cannot say all are 100% genuine.
People's stories and guides are always helpful to get inspiration and follow them with their strategies.
Similarly, I follow a few bloggers that really inspired me and you can learn more from them too.
Adamenfroy: Really amazing content, article, and blogging tips from this blogger. You can also join his Facebook group to learn more about blogging and different tips and tricks.
Pat Flynn: This blogger has amazing quality content and traffic. You can check his tips and guide for blog, podcast creation methods and can join his education programs to learn more.
Harish Agrawal: Indian blogger with more than 10 years of experience in the blogging journey. You will find blogging tips, WordPress guide, tools, deals, and more.
It is always a good practice to learn more and do research about successful bloggers.
You need motivation and inspiration for blogging every time. The growth of new blogs is always slow but it is long-term and many people left the blogging journey by not getting a quick result.
So far what I learned is: Do more research, learn, and do not stop your writing.
8. Analyze Your Blog Results
Blogging is a long-term income source and you need to keep it updating from time to time.
You may get good or bad results at the end of every month.
You need to keep focusing on your result, analyze them, and try to improve as much as you can.
Let's say you have 1k traffic in march and it drops down to 500 next month. It really makes bloggers frustrated but It is always important to know what is the reason and factors that cause low traffic and try to improve next month.
You can also track and analyze your competitor traffic with many SEO tools. These tools help to give ideas about how they are writing an article, optimizing content, promoting affiliated links, and more.
9. Add Advertising and Affiliated Links
It is important to add advertisements for revenue. And promoting affiliated links is equally important for bloggers. But do not insert more ads and links to make it messier.
This may result in a bad user experience. You can use a few affiliated links in a post and clean ads either at the top or at the button of the blog.
As per my experience, I faced slow speed while using too many advertisements due to third-party sites using cookies, flash banner images, etc.
Google ads are the most popular advertising option for bloggers and if you are applying them for the first time. Your blog should be neat and clean with very few advertisements. And the same principle is followed by other many advertisement partners.
10. Go Go and Go Never Stop
It does not mean "just keep going even if you did not get good results in blogging."
If you get low traffic or bad results the first time, try to figure out what is the reason behind it.
Analyze and make an improvement. But keep updating your article making a proper schedule.
For example, uploading 2 articles a week and again making gaps are bad practices. At least upload new articles every week and try to continue slowly expecting long-term results. But regularly.
I personally quit my first blog getting zero traffic and again after 2 years, I decided to start a new blog.
Still, the result was nothing for a few months and this time I did not stop.
I continued uploading articles, learning SEO, researching more about blogging, and started reading self-motivation articles and other's success stories.
For me, this time is a bit different. After 4 months, I started getting some traffic and comments on my blog and still working on it.
Now, I have hope compared to my previous blog journey and I am expecting earning after one year.
Long-term goal expectations do not make failure feeling if you did not achieve results quickly.
How to Start a Blog Final Conclusion
Blogging is one of the popular business options on the internet. As internet users are growing day by day. Its popularity is growing.
There are millions of blogs on the internet and this time it is harder to get more traffic due to higher competition.
But it is not impossible but there are some rules that every blogger needs to focus on.
Like: choosing a proper niche, writing quality content, learning about keyword research techniques, SEO (Search engine optimization) implementation, and more.
Besides these, you should have patience and the ability to do harder and smarter work by following a proper working schedule.
Choosing the right blogging tools is also equally important for growing. As these will reduce time, workload, stress, and mistakes for bloggers.
Blogging is a long-term business and needs a long-term plan and effort.
Most of the new bloggers stop by getting no traffic in a few months and delete or deactivate their blog very soon.
I personally follow these rules strictly at blogging:
1. Choosing proper hosting and domain for your blog.
2. Focusing on quality content with a good on-page SEO setup.
3. Updating content regular basis and providing value to your reader.
4. Analyse the past month's results and try to improve for next month's goal.
5. Research successful bloggers and their way of writing content and their marketing strategies.
Once you start getting traffic, comments, engagements, and subscribers you can focus on adding advertisements and promoting affiliated tools and products.
The reason to purchase products by anyone through your blog is "All they need trust". There are many websites simply focusing on affiliated links without providing the value which is not worth it.
I love to hear your blogging-related questions in a comment below. 🙂